Monday 21st February 2011
If you have a contribution for the Shukan News (story, photograph, video), please send it via email to gary@garyweigh.com
1. Interesting translation in Japan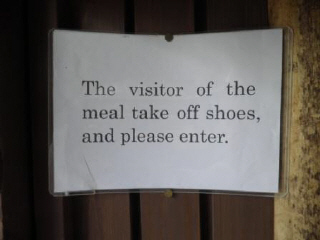 Here is an interesting English translated sign posted on the door of a Japanese restaurant in Kyoto.
2. The thrill and excitement of Sumo Wrestling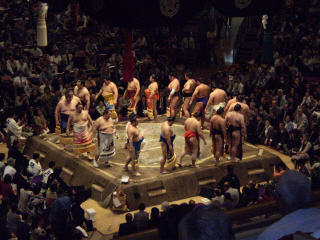 When I visited Japan recently, one event that was on the top of my to-do list was Sumo wrestling. The current Sumo stadium is the Kokugikan in the Ryogoku district. It is 2-3 minutes walk from Ryogoku Station on the JR Sobu Line and can be seen from the station platform.
Sumo is an ancient sport steeped heavily in Shinto tradition. Most of the Shinto that can be seen occurs symbolically. The sand that covers the clay of the ring (dohyo) is itself a symbol of purity in the Shinto religion. The canopy above the ring (yakata) is made in the style of the roof of a Shinto shrine ……
To read the full article, visit the Aikido Secrets blog site at: http://www.aikido-secrets-to-calm-success.com/martial-arts-spirit-the-thrill-and-excitement-of-sumo-wrestling.html Gary
3. Hate to sound like a broken record but we still need help
We still need one (1) more person to help out from 10am-2pm on Thursday 3rd March at Griffith University (Nathan Campus). It is simply a matter of sitting on a chair at our stall (a table with our sign on it), talking about Aikido and hand out a few brochures. And that's it!! There is no selling involved. Students circulate the market and a few approach the table. They know little or nothing about Aikido so it doesn't matter what rank you are. All you need to do is speak about your own experiences. Pleeeease …. we don't ask much of our members but we need you now! If you can spare two hours between 10am -2pm contact Chris Cobban at chris.cobbo@hotmail.com
4. Ki demonstration
This is a great Ki demonstration by Kashiwaya Sensei, Chief Instructor for Ki Society USA. Sensei is one of the very few Aikido professionals in the United States and travels extensively throughout America, Canada, and South America teaching Aikido and Ki Development.
5. Cheese and crackers for the soul
"He who knows others, is clever; but he who knows himself, is enlightened. He who overcomes others is strong; but he who overcomes himself is mightier still." Lao Tzu
https://griffithaikido.com.au/wp-content/uploads/2014/12/griffith-aikido-logo_transparent.png
0
0
admin
https://griffithaikido.com.au/wp-content/uploads/2014/12/griffith-aikido-logo_transparent.png
admin
2011-02-21 04:35:42
2014-12-08 02:38:38
Shukan News 21st Feb