Monday 30th May 2011
If you have any Worldwide or Aikido Brisbane contribution for the Shukan News (story, photograph, video), please send it via email to gary@garyweigh.com
1. Next BEGINNERS COURSE starts on Tuesday 7th June
Learn Aikido, the mysterious Japanese martial art, where size and physical strength mean nothing. For more information check out this site and email Ben at aikidogriffith@gmail.com. Don't worry that you have no previous experience or you are not fit enough. This is the martial art where you can be you! When you start our Beginners Course, you will have your own experienced instructor on your own mat. Come give Aikido a try and combine effective self defence with a great night out!
2. Adult grading report
Excitement filled the air as our Nathan dojo held its quarterly grading last Saturday. Once again it was gratifying to see so many people meeting the challenge and progressing.
6th kyu
Danwin and Anthony were first onto the mat. Anthony trains with the adults on Saturday mornings and was making the transition from the striped orange belt of the teens / aikikids grading system to the adult grades. He did a good job in his first adult grading, showing a good basic understanding however, Anthony would benefit enormously from training twice a week.
Danwin performed a very good 6th kyu grading and looked like he was thoroughly enjoying it. He was calm and very smooth in his technique; his regular practice shining through. He moved well and blended well and has certainly raised our expectations for his yellow belt grading.
5th kyu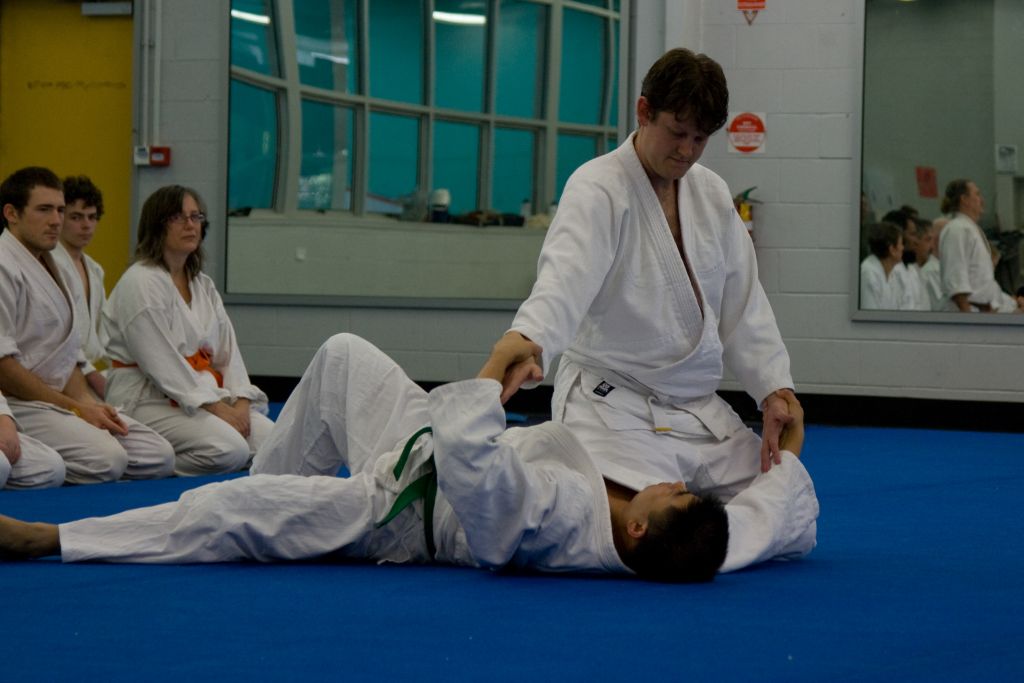 Daniel had the mat to himself for his yellow belt demonstration. A solo performance can be a daunting task but he handled it all very calmly and for the most part very confidently. Like Danwin, Daniel has trained the house down since joining us early this year and is eager to learn. Keep up the great work Daniel!
4th kyu
Brenden and Jerimy both performed very well in their orange belt demonstration. Both did a great job showing a very good understanding of the techniques. Both were relaxed and showed good close control.
3rd kyu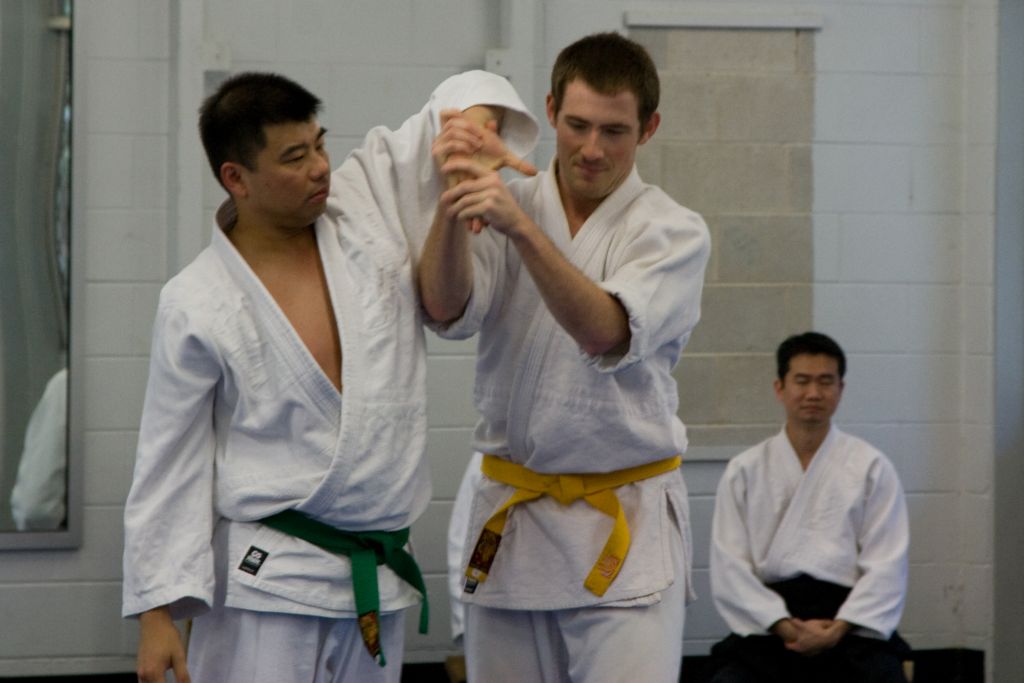 There was a lot to like about Phillipa's green belt grading. Some nerves crept in at the start but she showed great calmness and a lot of control. Her tanizugake was terrific with really good movement from her centre. I'm glad I wasn't on the receiving end of some of her throws.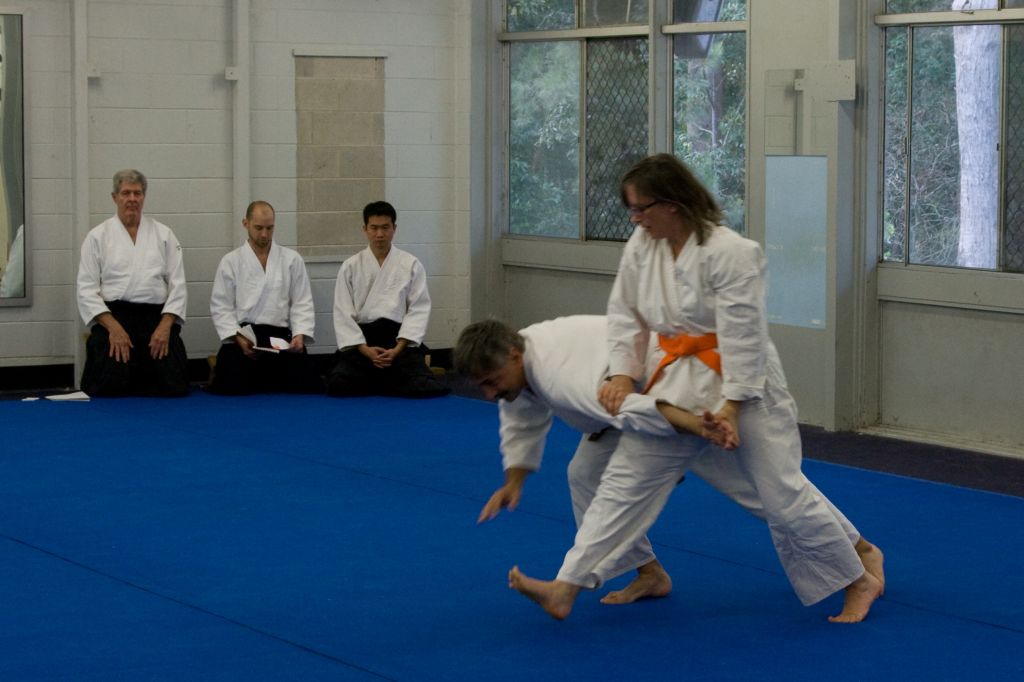 2nd kyu
Krishna and Matthew were awesome! As they worked side by side, it was hard to take our eyes off them. I saw a side of Krishna I have never seen before. He was calm, very confident and in control with some very smooth technique. What can I say … it was a terrific grading demonstration!
Matt just amazed us! He has some heavy duty eyesight challenges but his other senses are doing the job just fine. He has found new ways to detect Uke's movements and his sensory perception is better than most people with 20:20 vision. His was also a terrific performance where he showed all of the the softness and smooth control expected in a brown belt grading. Great work guys!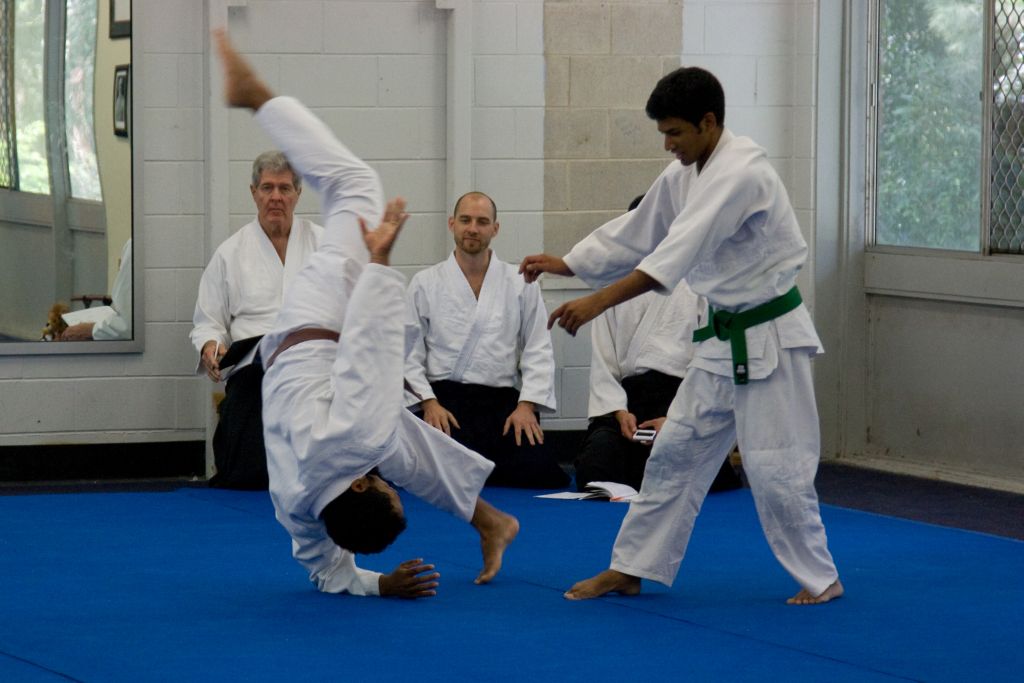 1st kyu (brown belt + hakama)
I knew we were in for a treat with these guys and girls because all of them are dedicated students who train 3 times a week most of the time. We knew they would come well prepared and they didn't disappoint. They brought their A-game.
Lachlan's grading was first class! He used the mat very well during his taninzugake to lengthen and shorten the attacks. At one stage we thought we might have to call an ambulance for poor David as Lachlan repeatedly threw him in zenpo from one end of the mat to the other. His weapons kata were very impressive; performed with great maturity and very strong Ki. The only word we could find to describe it at the time was 'WOW'! This makes Lachlan the youngest 1st kyu in our club's history.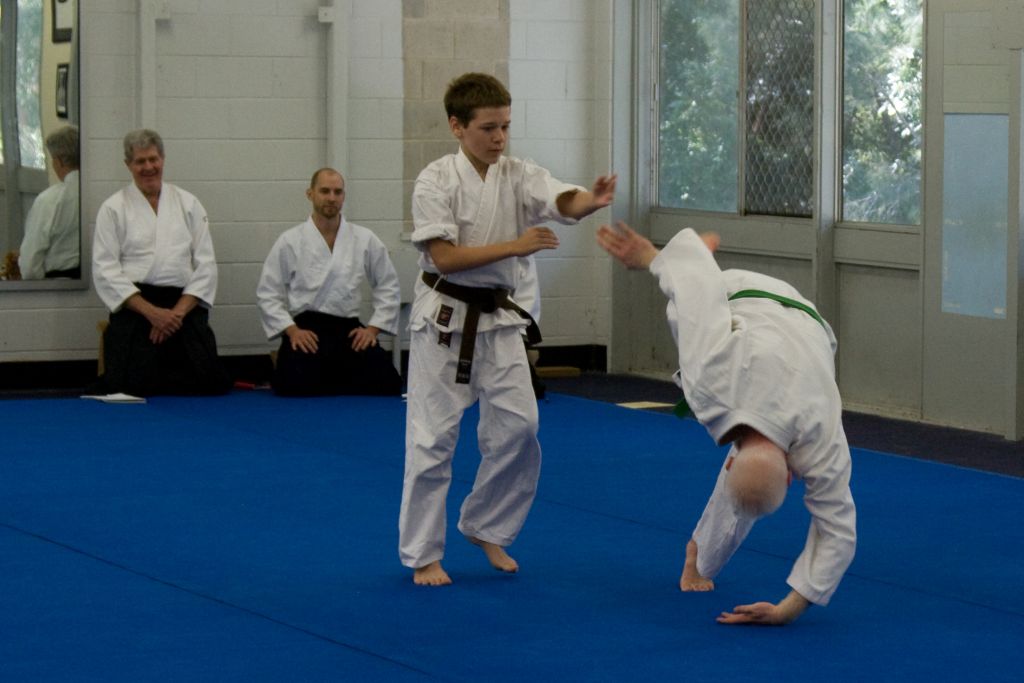 Mike did a great job! He is rapidly finding his centre. For the past three years or so, he has persistently chipped away at softening his technique and using his hips. The fact that relaxation drove much of his taninzugake made his grading very pleasing to watch. The highlight for me was his weapons. His strong Ki extension boomed inside the dojo and almost rattled the squash court windows. Well done Mike!
Janet was very impressive. She was a picture of composure and control. She didn't raise a sweat or quicken her breathing from start to finish, even through her very competent weapons kata. Janet was very calm and relaxed as she demonstrated a wide range of techniques, and I now see a new confidence emerging in everything she does on the mat.
Narelle was wonderful! She lives and breathes Aikido so it was just another day at the office as she went calmly about her work, under the watchful eye of her mascot Aikido-bear. (That was the one with the ringside seat snoozing beside Kamiza). Her taninzugake was trademark soft and smooth as she scorched through her repertoire. On the weapons mat she was calm and focused with great extension through the Bokken and Jo. We could even hear the woosh of her Bokken as it whistled through the kata. Great job Narelle!
Emile was very relaxed and smiled all the way through his taninzugake but we had to deduct big points for threatening to throw Kylie into the Senseis. And remind me not to stand in front of him when he is holding a bokken or a Jo, so strong was his Ki with weapons. Emile was very impressive and we are so happy that he is staying long enough to do his Shodan grading before returning home to New Caledonia.
As you can appreciate, everyone's journey is different. Everyone has their own challenges and no two people are the same. Advancing to the higher ranks simply means that there are new challenges to face, but the journey goes on. The way forward is only ever found in regular practice.
Many thanks to our dear friends from Everton Hills dojo who came over to support us. Your Ukemi services were very much appreciated. Thank you to Bartek and Kylie for the photos. There will be many more photos posted soon from Sandy and Dean who were both busy snapping away on Saturday. Check out our Facebook page!
Thank you to Narelle, Jutta, Lenore and everyone else who helped out with organizing food. A big thanks also to everyone who brought a plate along to the afternoon tea. This includes Ben who brought along an empty plate, being the remnants of what was a full plate that he cleaned up after the last grading. Things obviously work differently in Malaysia.
Until the next grading … Sayonara!
3. Our Facebook page has come to life
As many of you have noticed, our new Facebook page has suddenly sprung into life. When we had our new website built late last year, the site builder set up a Facebook account and connected it to our website, and then we proceeded to overlook it for a few months. Ah well! Better late than never!
Since an observant member pointed out this oversight at our recent planning meeting, we are off and running with it. So please feel free to get connected (above), send us a friend request and join Griffith Aikidoclub on Facebook. Please take care with your comments though. We are a family club and this is a family site. We are encouraging Aikikids members to join as well as adults.
4. Thought of the week
"To injure an opponent is to injure yourself. To control aggression without inflicting injury in the Art of Peace." O Sensei Morehei Ueshiba
https://griffithaikido.com.au/wp-content/uploads/2014/12/griffith-aikido-logo_transparent.png
0
0
admin
https://griffithaikido.com.au/wp-content/uploads/2014/12/griffith-aikido-logo_transparent.png
admin
2011-05-30 10:28:05
2015-01-13 05:18:12
Shukan News 30th May