Shukan News 5th September
Griffith Aikido Brisbane
"Beginner's course Starts at 6.30pm Tuesday 6th September"
If you have any contribution for the Shukan News (story, photograph, video), please send it via email to gary@garyweigh.com
1. Everton Hills grading Saturday 17th September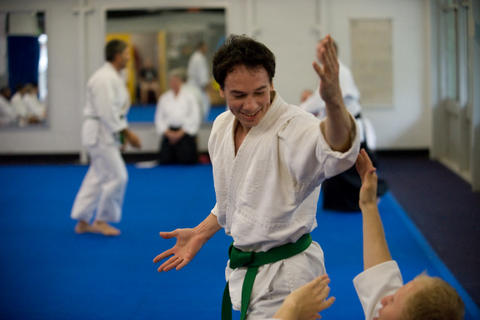 On Saturday, 17th September, Everton Hills Dojo will be holding Shodan Gradings for Darren Richardson and Ian Grant. Visiting Ukes are cordially invited for the occasion to support Darren and Ian.
The session will run from 10.30am -12.30pm and there will be a pizza lunch afterwards. I am currently talking to the PCYC Management about an extension of time and won't have an answer till Wednesday. Should that not be possible all proceedings will have to be completed by 12.30.
Hoping to welcome many visitors!
Best wishes, Rod Sensei
2. Shaolin Warriors at QPAC 16th September

Direct from China, the Shaolin Warriors return to the Australian stage showcasing the remarkable skill, stunning movement, and spectacular imagery of kung fu in a dynamic new production.
Featuring rarely seen Buddhist meditation alongside deadly martial-arts prowess, this breathtaking extravaganza starring 22 kung fu masters follows the journey from a young child's initiation into the monastery, to achieving fully fledged warrior status through diligent training and study. In addition to the incredible kung fu feats, the show also reflects the profoundness of Chinese Buddhism, the "Unity of Zen and Martial Arts".
3. Early Bird extension for Maruyama Sensei Byron Bay seminar 2011
Registrations for the 'Maruyama Sensei 2011 in Byron Bay' seminar (Friday14th – Monday 17th October) have been steady, but there are still some places left. To encourage firther pre-registration, we have decided to extend Early Bird cut-off date to the end of September for any pre-registrations with online (or cheque / money order) payment.
Kind regards,
Elizabeth Andel
Aikido Yuishinkai
http://www.aikidoinbyron.com, http://www.aikidoyuishinkai.com
4. Seniors classes are back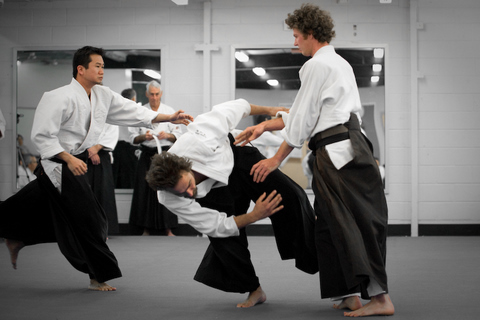 In response to interest expressed by senior students we are bringing back monthly Seniors Classes on a trial basis. They will be held on the last Thursday of the month at our Nathan dojo commencing Thursday 29th September.
These classes for 2nd kyu and above will be led by Steve Dows Sensei on the back mat while the normal Thursday class will continue on the front mat by Gary Sensei. Our senior students at Everton Hills dojo are warmly welcomed.
5. Instructors' night 10th November
On Thursday night 10th November we will hold an instructors' night at Nathan dojo for our current instructor group as well as those interested in becoming an instructor (2nd kyu and above). The session will not be about technique. It will cover a range of issues relevant to the role of instructor – for example, safety, interacting with students, tips and traps and dealing with problems on the mat. The normal Thursday night class will proceed on the front mat.
6 Thought for the week
"Peace begins with a smile." Mother Teresa
https://griffithaikido.com.au/wp-content/uploads/2014/12/griffith-aikido-logo_transparent.png
0
0
admin
https://griffithaikido.com.au/wp-content/uploads/2014/12/griffith-aikido-logo_transparent.png
admin
2011-09-05 07:42:29
2014-12-08 02:36:39
Shukan News 5th September