Book now for the Murray Loader Aikido seminar 19th & 20th May.
If you have any contribution for the Shukan News (story, photograph, video), please send it via email to gary@garyweigh.com
1. Time running out for Murray Loader seminar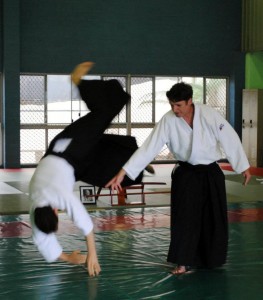 Our much anticipated seminar with Murray Loader Sensei is now less than 2 weeks away and places are filling fast. Griffith Aikido members should pre-pay at class. Visitors should contact us on info@griffithaikido.com.au to register and pay at the door on arrival. For prices, scroll down to last week's Shukan News.
Murray Sensei will be focusing on the "IMPORTANCE OF KI" in the following applications:
Taiso / Warm up exercises
Techniques – Real practical soultions
Weapons – Ken, jo and tanto
Kaeshi / reversals
Kuntai / Juntai / Ryotai – these levels of understanding will be explained further
Dynamic Randori (time permitting)
2. National Geograhic – Samurai Sword
When you have a spare 47 minutes watch this very interesting documentary which tracks the making of a katana from start to finish using traditional methods. The importance of the sword to the Samurai way of life is also explained.
3. No class tonight (Labour Day) at Everton Hills dojo
Just to let you know that The Hills PCYC will be closed for the Labour Day Public Holiday on Monday, 07May 2012, so there will be no Aikido training that evening. Adults will resume on Wednesday, 09May and Aikikids Saturday, 12May.
4. Thought for the week
"A bend in the road is not the end of the road unless you fail to make the turn." Origin Unknown
https://griffithaikido.com.au/wp-content/uploads/2014/12/griffith-aikido-logo_transparent.png
0
0
admin
https://griffithaikido.com.au/wp-content/uploads/2014/12/griffith-aikido-logo_transparent.png
admin
2012-05-06 07:31:55
2014-12-08 02:34:13
Shukan News 7th May