At Griffith Aikido – what to expect on your first night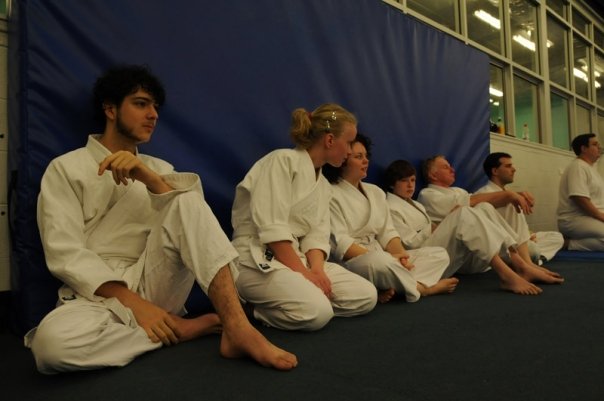 First night is always a little scary! At Griffith Aikido Brisbane, we make everyone feel welcome and comfortable on their first night. We know what it's like because we have all been there at some point.
You won't know anyone on your first night, but the moment you appear in the doorway a friendly face will greet you. It's hard to remember everyone's names so you will be introduced to those who will help you through the first night and the first month.
You may be the only one not wearing a Gi (white training uniform) but that's ok. Wear loose comfortable clothing. Shorts and shirt is fine. There is no need to rush out and buy a uniform. Be sure that you want to continue with Aikido first before spending your money.
When you enter the dojo, we ask you to leave your shoes at the door. Your 'bare feet' is the accepted footwear inside the dojo. You will see bowing from time to time. Don't worry about that. We will teach you.
Before stepping onto the mat, please remove belts, buckles, jewellery, piercings, watch, etc. so that you won't do yourself or anyone else an injury. Ensure all of your nails are reasonably short so that you don't accidentally scratch anyone.
Bring water! Although we have ceiling fans at Nathan and floor fans at Everton hills, it can still get warm inside the dojo during summer, so we recommend that you stay hydrated. At any time you need a break you are welcome to rest. However, if you leave the dojo, please tell the instructor.
Safety is our highest priority. You are not obliged to do any exercise or technique if you don't want to. You may sit out of any activity at any time.
That's about all! So now that you know what to expect, please come along and join us. Arrive at 6.15pm to complete some paperwork. Start at Everton hills dojo at any time. The next Beginner's Course starts at Nathan dojo on Tuesday 1st February 2011.
Aikido Brisbane – for class times at Nathan and Everton Hills dojos go to:
https://www.griffithaikido.com.au/class-times
See you on the mat!
https://griffithaikido.com.au/wp-content/uploads/2014/12/griffith-aikido-logo_transparent.png
0
0
admin
https://griffithaikido.com.au/wp-content/uploads/2014/12/griffith-aikido-logo_transparent.png
admin
2011-01-27 05:10:23
2015-01-13 05:14:52
At Griffith Aikido – what to expect on your first night