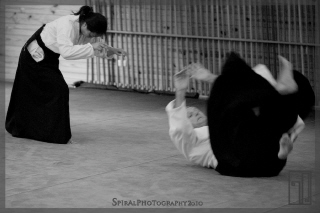 The concept of Ki is important to the practice of Aikido. Specific warm-up exercises and practice of Aikido techniques improve the flow of Ki within our bodies. An increase of inner strength is a major benefit of constant practice.
As Aikido practice continues, most people notice improvements in health, balance, flexibility, and self confidence. The body and mind become more coordinated and move as one.
At a basic level, fundamental body movements are taught. Although the movements are simple in their concept, a lot of practice is needed to coordinate correct distance, movement and limbs, all at the same time.
In the early days of training, students begin to learn the outer forms of basic techniques. Most techniques follow the body's natural movement. Students begin to understand the importance of getting of the line of the attack, leading and blending.
One of the first skills to be learnt in Aikido is how to fall safely. The aim is to prevent injury during practice. If forward and backwards rolling techniques weren't taught early, there would be a lot of awkward and dangerous falling.
Advanced practice means learning fewer new techniques but improving awareness, perception, anticipation and intuition. The concept of Ki extension plays a much bigger role as time goes on. Movements also tend to become smaller as perception and judgment are refined.
Aikido is a sophisticated martial art which requires a great deal of practice to become skillful. In the early days of training Aikido can be frustrating and a little overwhelming. There appears to be so much to learn. But before long, students realize that there are seemingly countless techniques. There is a certain familiarity when first seen, because they are variations and combinations of basic movements.
Aikido movements usually conclude with a throw or an immobilization technique applied to the shoulder joint, elbow joint or the hand. While the application of some techniques can be painful, they are not designed to cause permanent injury.
Aikido appears to be a soft martial art in training, but this is due to the control exercised during the practice of techniques. At full power (Ki power) with the addition of Atemi (striking) and wrist locks, Aikido can be performed with devastating effectiveness if necessary.
Check out this week's feature on William Reed – Nanba; walking in step, on our resources page
https://www.griffithaikido.com.au/about/resources/
Thank you to Dean Miscamble for the brilliant action photography. Visit http://www.spiralphotography.com.au
https://griffithaikido.com.au/wp-content/uploads/2014/12/griffith-aikido-logo_transparent.png
0
0
admin
https://griffithaikido.com.au/wp-content/uploads/2014/12/griffith-aikido-logo_transparent.png
admin
2011-01-31 05:07:54
2014-12-11 08:50:52
The magic of aikido