Griffith Aikido Brisbane Shukan News
Class numbers are rising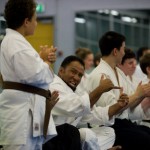 Aikido Brisbane fun and fitnessIt is really heartening to see class numbers rising at Griffith Aikido Brisbane. The number of people training at Nathan dojo is steadily rising and dojo is getting back to its old vibrant self.
It's also good to see a few more people training regularly at Everton Hills. It was gratifying to see such a good turnout for Michael Karkkainen's Sensei's class on Monday 8th July.
Michael Sensei will return to Everton Hills tomorrow night Monday 22nd July.
DON'T MISS OUT!
Market Day is fast approaching at Nathan
brisbane martial arts, safety Griffith Aikido will be participating at the student Market Day on Thursday 25th July. A very big thank you to John Murray who is planning a stand with a much higher profile than we have enjoyed in the past. He is purchasing a couple of retractable vertical banners made for the occasion.
John is also taking leave from his job for the day to attend our market stand. Thank you very much John! If anyone else in the club has a little time to keep John company for a while talk to curious students about the incredible benefits of Aikido, please contact John on 0407 253 911.
Words have a power of their own.
The power of the spoken word was recognised in ancient Japan as 'kotodama', or word spirit. To speak a word is to encourage it to come true. Your life energy responds to sounds and thoughts, as expressed in the spoken word. When you fill your daily life with positive words and thoughts, your life is filled with the power of Ki. In this way you can keep mentally and physically healthy, and have a positive influence on others as well.
Words have real power, and can produce practical results in your life.
I am mind itself.
If I hold positive thoughts in my mind, good things are likely to happen
Holding negative thoughts in my mind works against my best interests.
Therefore, even if my body suffers physically, my mind remains optimistic.
Even if I encounter obstacles, I am never defeated.
Daily I fill my heart with thoughts of joy, gratitude and hope.
I face each new day with a bright and optimistic spirit, which I express in word and deed.
I have faith in life and life responds in kind.
https://griffithaikido.com.au/wp-content/uploads/2014/12/griffith-aikido-logo_transparent.png
0
0
admin
https://griffithaikido.com.au/wp-content/uploads/2014/12/griffith-aikido-logo_transparent.png
admin
2013-07-15 09:03:21
2014-12-08 02:34:54
Griffith Aikido Brisbane Shukan News