Sakura by night at Kiyomizu-dera, Kyoto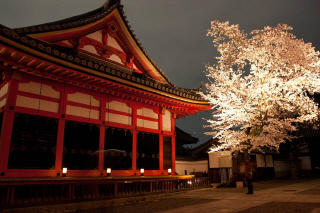 I just had to share these photos with you. They were taken two weeks ago in Kyoto, at Kiyomizu-dera temple. During the cherry blossom season the temple is open at night and both the buildings and the cherry trees are lit up. It makes for spectacular viewing.
Kiyomizu-dera (meaning 'the clear water temple') is the main temple of the Hosso sect of Buddhism. It has been destroyed and rebuilt many times during its twelve centuries of history. The Shinto Jishu Shrine (below right) is located here also. Note the commanding view across the city of Kyoto.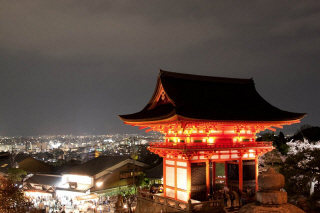 The temple is said to have been constructed from 778 by Enchin, a buddhist priest, in honor of the Kannon Bosatsu (Bodhisattva of Mercy and Compassion). A bodhisattva is one who can achieve enlightenment but decides to remain on earth to assist others in achieving nirvana.
This famous temple received World Cultural Heritage Listing by UNESCO in December 1994. Kiyomizu-dera is one of seventeen World Cultural Heritage sites in Kyoto.
The building stood until 1629 until it was destroyed by fire. The present day roof of the Main Hall (Hondo) is made of cypress, and not of traditional tile, in remembrance of its original inclusion as part of the emperor's palace.
Most of the buildings still standing today were rebuilt by Iemitsu Tokugawa, the 3rd shogun of the Tokugawa Shogunate, in 1633.
It is quite a walk to get to the temple, up the steep and narrow Ninnen-zaka & Sannen-zaka walk, past the Omiyage shops which eventually leads to the main gate of Kiyomizudera.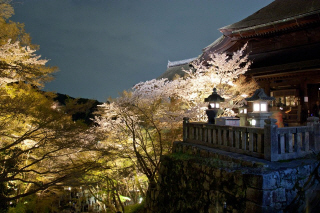 https://griffithaikido.com.au/wp-content/uploads/2014/12/griffith-aikido-logo_transparent.png
0
0
admin
https://griffithaikido.com.au/wp-content/uploads/2014/12/griffith-aikido-logo_transparent.png
admin
2011-05-12 02:18:40
2014-12-08 02:37:12
Sakura by night at Kiyomizu-dera, Kyoto