Shukan News 12th September
REMINDER: DAN GRADINGS AT EVERTON HILLS 10.30 am THIS SATURDAY !!!
Griffith Aikido Brisbane
If you have any contribution for the Shukan News (story, photograph, video), please send it via email to gary@garyweigh.com
1. One member's day out at the William Reed Sensei Nanba seminar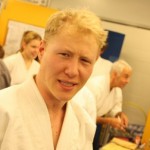 There is nothing like sleeping in on a Saturday morning, especially when there is nice rainy weather. There was however, no such chance of this for me. I was too excited anyway. Realising I was going to be late I packed quickly and rushed out the door as soon and as fast as I could manage. I was travelling to Cleveland to train with the well known William Reed Sensei for a weekend of Nanba and Aikido training.
Cleveland is some distance for the local inner-city Brisbane dweller like me. Worse still, Cleveland, to an inexperienced driver is a little bit of a maze, especially in wet weather. After praising that I had actually managed to make it to the school, I heard little kids screaming; organised screaming. It was martial arts, but not Aikido. Another woman and I looked through the doorway at the kids, looked at each other; and then came to the same conclusion.
Lost and confused we asked a parent taking their child to train where else on the school there could be another training place. 2 minutes later we had driven around the corner of the school. In a virtually wet, cold empty car park, I nestled my green little car beside the largest vehicle there. It was the one I knew well from my own dojo.
Trying to escape the rain, I moved quickly to the hall and entered. There were a select few of us; some from Everton Hills dojo, some from Nathan dojo and others from various places in and around Brisbane. All of us were dressed in casual exercise clothing. They were all friendly faces I knew well too; it was good to be among friends.
Luckily for me, class had not started yet. I had arrived just in time. I briefly spoke to Sensei; introducing myself in the usual slightly awkward way; as would usually occur when being nervous at meeting a very well known guest Sensei for the first time. At least that was where the nerves would be there most raw. Looking incredibly youthful, William Reed sensei had a welcoming demeanor. In conversation his laugh seemed to stand out the most; recognisable anywhere.
Class began. Today we were learning Nanba. As we found out from Sensei, it was the traditional way that Japanese people walked and moved. The exercises focused on finesse as he pointed out with his nicely done briar rabbit impersonation.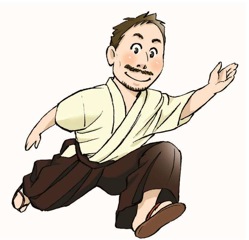 The first session we learnt to walk Nanba style. We Nanba'd all around the court and even up and down steps; there was no where impossible to Nanba to. It felt and looked completely weird but somehow fun and less strenuous on the joints. By the second session we had developed our Nanba abilities. We had allowed the 'Sensei side' of our bodies (the side that picks it up quite easily), to teach our less capable sides. Now we were racing each other, gliding up and down the court Nanba style. As was pointed out it was hard to stop when you saw the wall (note to self: stop sooner if Nanba running). This time also, like Briar rabbit, Sensei showed us how it was impossible to be caught. After comparing normal running to Nanba running it was clear, everyone was much quicker and less puffed from Nanba style.
In session 3 we learnt the 12 Nanba stretches. It was quite amazing: I had joints creaking that I did not know even existed. After each stretch we noticed our movements afterwards were by far, a lot easier to do. These stretches also seemed relevant to many movements we make, especially the ones in Aikido. What was clear is that these actions maintained perfect balance and posture in any form you make and ensured less pain on the joints too.
Session 4 was the last session in which we did the seven exercises and oddly enough in time to music. It was a little like traditional Aikido warm-ups. It was also interesting to note that the songs used were compositions by music students at the university where Sensei last performed Nanba. Lastly, we let our creativity take over and expressed ourselves to the free movement of Nanba positions to music. Like all sessions, we ended with discussing the new points of understanding we had arrived at, as well as listening to a poem from one of his newly released books. After a long day's Nanba-ing we were tired but enlightened by this new knowledge. From there it was off to dinner with sensei and others and then at last home.
Drifting off to sleep, I thought over our sessions. The whole point of Nanba was to not twist, disconnect or force oneself during an activity. The movements were to be applied to one's every conscious movement throughout their day. I could see there was a bigger picture to Nanba. We had all walked away from those sessions with something more than just a bunch of stretches and movements; we had been shown a philosophy to express in deed. In many ways it represents many of the same physical principles we apply to our Aikido and on a more deeper and personal level the same one's we mentally should apply to life. Truly, there was much value in the Nanba sessions; and quite satisfied with this, I fell asleep.
2. Women in Aikido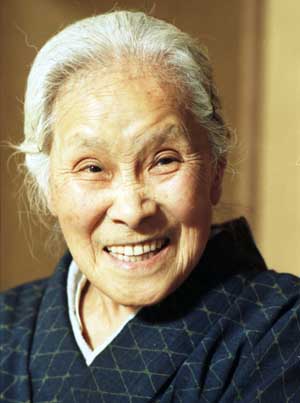 One of our members sent in this link to an Aikido Journal article titled, "Interview with Takako Kunigoshi". This is a 1981 interview with Kunogoshi Sensei who started training with O Sensei in 1933. In a country were equality for women is still evolving, this was a time when there were very few women practicing martial arts. It is a good read and it is interesting to note that the art that O Sensei was teaching at the time was Takeda Sokaku Sensei's Daito Ryu.
http://www.aikidojournal.com/article?articleID=613
3. Griffith Aikido club shirt offer – Limited time!!!
We are offering our members, friends and supporters a limited opportunity to buy a Griffith Aikido club shirt!! But you must place your order soon! The offer is only open until the end of September 2011.
The shirt is a very good quality two-tone contrast polo style shirt in black with red trim. The club logo will be embroidered on the front (on a white background). It is 65% polyester and 35% combed cotton fabric (210 grm approx) with a sun protection level of UPF 50+.
The cost is $30.25 each (ladies, men, child) including GST. That is the unit cost price to us and to you. We have not added a markup. The club will pay the embroidery and delivery charges.
How to order and pay:
Pay online at https://www.griffithaikido.com.au/payments/ (scroll down to the bottom of the page).
Complete the attached order form Griffith Aikido Logo Shirts Order Form
Return completed order form to Nathan dojo or email to aikidogriffith@gmail.com
All orders must be submitted and paid for in advance! Then we will send the order to the supplier. We expect delivery 2-3 weeks later.
If you would like to buy a shirt, please place your order now. It will be too late once this order closes. We will not be carrying stock!
4. Thought for the week
"To not forgive others is to allow them rent free space in your mind." Isabelle Holland
https://griffithaikido.com.au/wp-content/uploads/2014/12/griffith-aikido-logo_transparent.png
0
0
admin
https://griffithaikido.com.au/wp-content/uploads/2014/12/griffith-aikido-logo_transparent.png
admin
2011-09-12 07:27:14
2016-08-02 05:10:07
Shukan News 12th September