Shukan News 19th September
GET THROWN AROUND AT NATHAN SENIORS CLASS 29th SEPTEMBER
Griffith Aikido Brisbane Aikido
If you have any contribution for the Shukan News (story, photograph, video), please send it via email to gary@garyweigh.com
1. A big day at Everton Hills dojo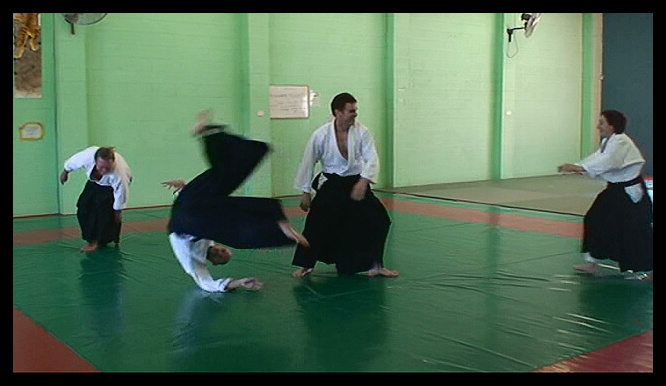 Last Saturday was a wonderful event at Everton Hills Dojo. There were twenty-four of us on the mat for the gradings including Gabby, Aran, Paul and Mike. All of us were very grateful to all of them for coming, and also Sheree and Narelle who turned up later to watch. It always makes it a special occasion when we have visitors!
Besides Darren and Ian grading for Shodan, we had Aaron grading for Seventh Kyu, Usha and Susan for Fifth Kyu and Brendan, Gary and Zac for Fourth Kyu. Although all of them were nervous they all performed excellent gradings.
For once I forgot to say, "It's fine to have butterflies, it's just a matter of getting them to fly in formation." But a couple of students reminded me afterwards. However, it is my strong belief that calmness and relaxation are techniques to be learnt as much as yokomenuchi shihonage or any of the others.
Aaron had the toughest gig of the day going first. I found out later that he'd been out playing in his band till the wee hours so the way he performed his grading was even more impressive. All techniques were done steadily and cleanly so the "automatic pilot" was working really well!
Usha and Susan grading for Fifth Kyu were next and both showed us clear and effective techniques. Both also showed that all the hard work on posture has paid off because that was excellent throughout. These two ladies showed that they have a flair for mastering techniques. It may not seem like it at times but it was there for all to see on Saturday.
Brendan, Gary and Zac showed us great awareness and they performed their techniques admirably. Brendan has come to terms with the Aikido Yuishinkai syllabus extremely well. Gary has kept training regularly despite being posted to such "outposts" as Auckland and Adelaide and Zac has trained diligently including helping us regularly with the Aikikids classes.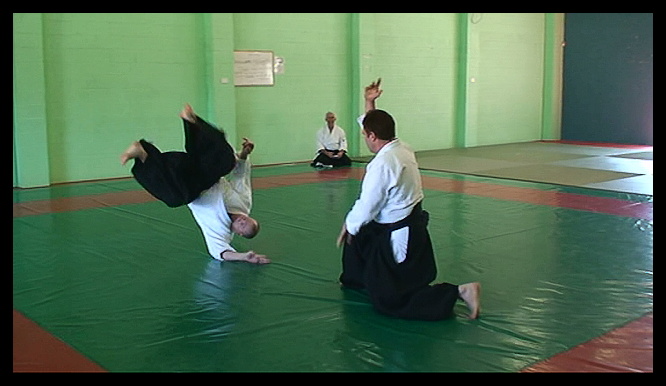 Darren and Ian performed their taninzugakes really well with plenty of smooth, effective techniques. Darren has a calm demeanour which gives him the appearance of having all the time in the world. Ian due to his huge "work ethic" has a tendency to "do" each technique rather than using the force of Uke's attack. There has been a great improvement there though and both showed great power and control. All ukes would agree with that! In their weapons katas both gave confident, competent performances; and in sanningake both gave excellent displays which they obviously enjoyed.
For both it was the culmination of years of hard work and they richly deserved the impressive gradings they performed.
One couldn't help but notice the looks of horror on the faces of the respective wives and children when Darren and Ian said they were now going to start preparing for their Nidan gradings. There is obviously a fair bit of ukeing done at home!
We all celebrated afterwards with pizzas and nibbles thanks to David and Michelle and it was lovely to have such an enjoyable social get together to cap off the day.
It certainly was a great day for Everton Hills Dojos. It was lovely seeing old friends again and also having so many there to support and encourage their colleagues and friends and to see them progress. It made it a truly memorable occasion.
-Rod Sensei.
Editor's Note: From all of us at Griffith Aikido we would like to extend our congratulations to our newest Shodans, Darren and Ian!
2. Annual seminar – Maruyama Sensei 14th to 17th October
The 2011 annual seminar with Maruyama Sensei is fast approaching. It will run from Friday14th – Monday 17th October 2011.
There will be 3 days of Aikido (Friday, Saturday & Sunday) and I day of Shindo (Yuki) healing on the Monday. The seminar is again hosted by the Byron Bay Aikido Club at Goshinkan dojo.
Accommodation should be a little easier and cheaper this year because the seminar is not in the school holiday period. NSW state schools return for Term 4 on Monday 10th October. Queensland state schools return for Term 4 on Monday 3rd October.
Full details including prices are on the attached flyer below. Please note that the Early Bird date has been extended to 30th September.
FOR DETAILS CLICK ON THIS LINK Maruyama Sensei October Seminar
3. A Morning in with Nathan's Aikikids
Last Saturday I found out first-hand what a group of talented and eager-to-learn children we have. As Steve, Nathan dojo's head children's instructor languished in hospital catching up on his post-op reading, he asked me to be present during the morning's three Aikikids classes.
It is a club safety requirement that an accredited club instructor, who is versed in the club's safety policies and trained in first aid, must be present for every class regardless of whether it is a children's class or an adult class.
I had already asked Matt, one of Steve's assistant instructors (a graded senior and participating parent) to take the classes, which he readily accepted. I should say at this point that Matt did a fantastic job. He engaged the children extremely well and his Aikido knowledge and experience showed through. So for me the hardest part of the day was waking up at 6.30am to open the dojo at 8am.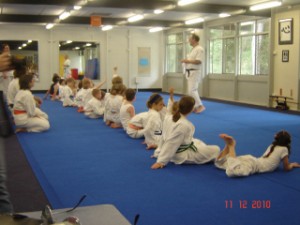 Matt took all three classes through ukemi (rolling) practice, starting with floor exercises, moving to forward rolling practice on the soft mats, and finishing with a simple but innovative ukemi obstacle course. As expected, the more experienced students showed a higher level of competence and the newer students were still finding their confidence.
What really impressed me however, was the attitude of self discipline and self control amongst large groups of children so young. For well over half an hour they eagerly focused on this key self defence activity that is not easy to master. They took instruction well and improved significantly by staying focused during repetitive practice. They did very well and it is a credit to them.
Defensive falling (rolling and break falling) is a skill which would stand anyone in good stead throughout their life – children and adults alike. It is very useful skill in a wide range of everyday situations. To be competent and confident in this part of the art of Aikido is to take the fear and risk of injury out of falling, stumbling, tripping, slipping or being pushed over.
For adults and children alike, taking ukemi from a throw is essential in gaining a deeper understanding of the technique being applied. There is only so much to be learnt by doing the technique. There is so much more to be learnt by receiving the technique.
-Gary
4. Get your club shirt now!
Don't forget our limited time offer to buy a Griffith Aikido club shirt!!
You must place your order before the end of September 2011.
The cost is $30.25 each (ladies, men, child) including GST. That is the unit cost price per shirt. The club will pay the embroidery and delivery charges.
How to order and pay:
 Pay online at https://www.griffithaikido.com.au/payments/ (scroll down to the bottom of the page).
Complete the attached order form Griffith Aikido Logo Shirts Order Form
Return completed order form to Nathan dojo or email to info@griffithaikido.com.au
All orders must be submitted and paid for in advance! Then we will send the order to the supplier. We expect delivery 2-3 weeks later. If you would like to buy a shirt, please place your order now. It will be too late once this order closes. We will not be carrying stock!
5. Christmas break
As usual, our Nathan dojo will break for 3 weeks over Christmas. The last day of training will be held on Saturday 10th December and the first class in 2012 will be held on Tuesday 4th January.
The folks at our Everton Hills dojo (who really don't like to stop training) are still thinking about their Christmas plans and we will release details shortly.
We will be organising daytime Christmas functions for children at both Nathan and Everton Hills dojos as well as one (1) combined evening function for adults. Details will be released soon.
6. Thought for the week
"Non-violence leads to the highest ethics, which is the goal of all evolution. Until we stop harming all other living beings, we are still savages." Thomas Edison
https://griffithaikido.com.au/wp-content/uploads/2014/12/griffith-aikido-logo_transparent.png
0
0
admin
https://griffithaikido.com.au/wp-content/uploads/2014/12/griffith-aikido-logo_transparent.png
admin
2011-09-19 07:16:07
2015-01-13 05:14:30
Shukan News 19th September