Shukan News 26th September
Griffith Aikido Brisbane
If you have any contribution for the Shukan News (story, photograph, video), please send it via email to gary@garyweigh.com
1. Club shirts – clearing up a little confusion!
There has been a little confusion in regard to sizing. The sizes on the attached Order Form are standard Australian sizes but the length and width measurements shown on the form were not clear. So here is the good oil on length and width:
Chest: half chest measured from mid armpit to mid armpit
Length: start where the neck meets the shoulder
How to order and pay:
Pay online at https://www.griffithaikido.com.au/payments/ (scroll down to the bottom of the page).
Complete the attached order form Griffith Aikido Logo Shirts Order Form
Return completed order form to Nathan dojo or email to info@griffithaikido.com.au
The cost is $30.25 per shirt. You must place your order by 30th September 2011.
2. Seniors class – this Thursday night 29th September!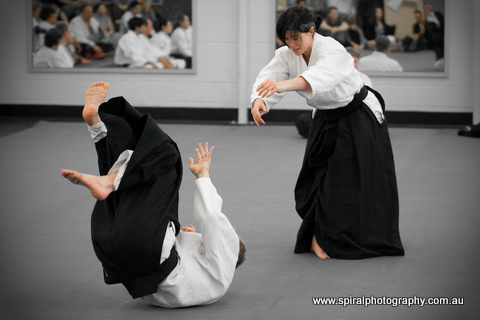 All seniors (2nd kyu and above) are welcome to our Seniors Class this coming Thursday night. Steve Dows Sensei will be the instructor and has promised to work seniors hard in an action-packed session.
So if you are looking for a challenge and want to spend a large proportion of the night upside down mid-air taking Ukemi, then this is where you should be. Seniors from Everton Hills and all other Aikido Yuishinkai dojos are welcome.
While Steve Sensei drills the seniors on the back mat, Gary Sensei will lead practice for everyone else on the front mat as normal.
3. Self defence classes for friends, family and work colleagues
We have been asked to run our very popular self defence class on a more regular basis!
If you are a friend or family of one of our members then we would love to run a self defence class for you and others in a small group. If any of our members would like to bring along a few work colleagues we will be happy to teach you on the same basis.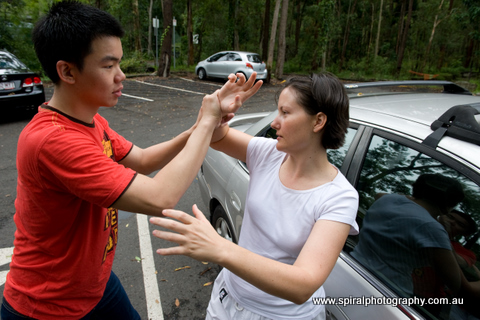 Just email me at gary@garyweigh.com and we will arrange classes for groups (between 5-10 people) at a mutually convenient time at our closest dojo. For our south side and north side locations go to https://www.griffithaikido.com.au/locations/
Following a request from Griffith University's Campus Life college administration, we ran a class last Thursday evening for Nathan campus college students. It was a huge success. Our own Nathan members joined in and everyone came away with a good understanding of where attacks actually come from and how to better prepare and protect themselves.
Our self defence course is an escalated response to danger and can be better described as personal protection. Like Aikido, the emphasis is on staying calm and working towards escape. It does not rely on a secret technique or special trick to overcome an attacker. Striking is a last resort. Our 5-step escalated response is:
Preparation
Awareness
Avoidance
Assertiveness
Escape
Aikido, like every other martial art, takes years to learn. Our 1.5 hour personal protection course is specifically designed for the untrained person. It is an absolute must for females. We teach a common sense approach to dealing with aggression, both in the home and outside in a variety of situations.
The physical part of the class focuses on assertiveness, using the voice as a weapon and a variety of simple escapes from common holds, grabs and unwanted affection.
Even though the class is quite gentle, you must sign our standard indemnity and take responsibility for your own safety in order to participate.
4. Andrew Moorhouse for all gi & hakama repairs
Ohayo fellow Aikidoka,
I am a qualified motor trimmer / machinist with over 25 years experience in the trade. I have a broad range of sewing experience from surf clothing right the way through to leather ware which comes in handy when it comes to repairing all types of martial apparel (gi's, hakama's, kick bags and so on).
I am now set up to offer my services to anyone in need of repairs and most basic repairs will be the average cost of a training session. So please feel free to call me on 0435 428 044 or talk to me at the dojo as i'm more than happy to help.
See you on the mat
-Andrew
5. Thought for the week
"Aggression only moves in one direction – it creates more aggression." Margaret J Wheatley
https://griffithaikido.com.au/wp-content/uploads/2014/12/griffith-aikido-logo_transparent.png
0
0
admin
https://griffithaikido.com.au/wp-content/uploads/2014/12/griffith-aikido-logo_transparent.png
admin
2011-09-26 07:08:42
2014-12-08 02:35:41
Shukan News 26th September