Editor: There were some very tired and sore bodies after the flying Ukemi of last Thursday evening's senior class. Everyone is eagerly awaiting October's class (27th).
Griffith Aikido in Brisbane
If you have any contribution for the Shukan News (story, photograph, video), please send it via email to gary@garyweigh.com
1. Wearing the hakama; what does it mean?

Judy Ringer's book, Unlikely Teachers is a 'must read' for anyone who seeks to use the principles of aikido to deal with conflict in everyday life. Judy's book is about finding the hidden learning gifts that life's difficult moments can offer. It is no surprise that most conflict is encountered internally – with oneself. Judy's wisdom is expressed in many wonderful stories, and throughout the book she connects easily with the experiences of others.
With Judy's permission, I have reproduced part of one particularly inspiring chapter. It is a passage of text that every senior student of aikido can relate to. In it, Judy writes about herself; beginning with her own fears the very first time she put on a hakama.
The chapter is titled:
Wearing the Hakama: Lessons in Leadership. Here is an excerpt from pages 104-105:
Assuming Leadership
When I first put on a hakama, I began to think about the bikini song (Editor's Note: Brian Hyland's 1960s hit, 'Itsy Bitsy Teeny Weenie, Yellow Polka Dot Bikini' referred to earlier in the chapter). Up to this point, although I was the founder of my dojo, I wore a gi and looked like everyone else. I was nominally the chief instructor, but in reality most of our classes were taught by visiting instructors from nearby sister schools in Massachusetts and Maine. Putting on the hakama meant becoming in fact the chief instructor and the leader in ways I was not sure I knew how to handle. I was afraid to come out of the water.
Luckily I had help. It came first from my brother, Mike, a retired Navy captain. He said he appreciated the feelings I must be having wearing my "new getup" in front of people who understood its importance. He was also confident that I would recognize the responsibility and uphold all of the traditions that came with it.
I realized that people would expect more of me now. That was my fear, of course, and Mike helped me to understand that it was also my new responsibility.
Coming out
I looked around to see how others wore their hakama and how they handled the rank it implied. I had many good role models – excellent teachers who, with patience and persistence, mentored me, helped our students understand proper etiquette, and supported our dojo.
I began to walk the path of a leader in our dojo. I realized my students wanted me to do it and that they were watching to see if I would take up the mantle. I understood that to hide in the water would be a disservice to them and to aikido. I found my center, stood straighter, and walked onto the mat with expanded vision. This was in fact my school. Putting on the hakama, I accepted leadership in form and function, and each new challenge offered new lessons.
There is a copy of Judy's book in our library. It is recommended reading. If you would like to purchase your own copy ($15 + shipping) go to Judy's website http://www.judyringer.com.
2. The annual seminar is almost here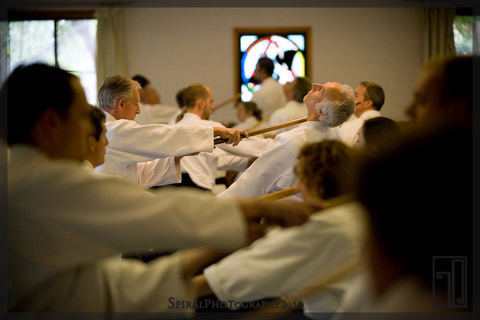 The 2011 annual seminar is only 2 weeks away. This 4-day opportunity with Maruyama Sensei will be held once again at Goshinkan dojo Byron Bay, commencing on Friday14th through to Monday 17th October. There will be 3 days of Aikido (Friday, Saturday & Sunday) and I day of Shindo (Yuki) healing on the Monday.
The Early Bird has closed but there is still an opportunity to attend the seminar, even if it is to do a class or two over the weekend. Everybody is welcome including white belts.
Full details including prices are on the attached flyer. Maruyama Sensei October Seminar
3. Last chance to order a club shirt!
We have decided to extend the club shirt offer one more week to next Friday 7th October. If you miss this, the next order will not be for another 6-12 months.
How to order and pay:
Pay online at https://www.griffithaikido.com.au/payments/ (scroll down to the bottom of the page).
Complete the attached order form Griffith Aikido Logo Shirts Order Form
Return completed order form to Nathan dojo or email to info@griffithaikido.com.au
(Chest: half chest measured from mid armpit to mid armpit; Length: start where the neck meets the shoulder)
The cost is $30.25 per shirt. Final orders by Friday 7th October 2011.
4. Combined Nathan-Everton Hills Christmas Dinner
This year we are holding a combined Griffith and Everton Hills Adults Christmas Party. The usual after grading lunch at the Dojo will be delayed until 6pm that evening for a Christmas dinner.
Date: November 26th at 6pm
Venue: Broncos Leagues Club is located just 8 minutes from Brisbane City at:
Fulcher Road, Red Hill, Queensland 4059. Free parking is available.
Cost: $27.50 per person for buffet dinner
http://www.broncosleagues.com.au/default.asp?contentID=785 )*
RSVP: to info@griffithaikido.com.au by end of October to enable our booking to be confirmed.
5. Thought for the week
"Circles create soothing space, where even reticent people can realize that their voice is welcome." Margaret J Wheatley
https://griffithaikido.com.au/wp-content/uploads/2014/12/griffith-aikido-logo_transparent.png
0
0
admin
https://griffithaikido.com.au/wp-content/uploads/2014/12/griffith-aikido-logo_transparent.png
admin
2011-10-03 07:00:25
2015-01-13 05:18:10
Shukan News 3rd October