1. Koichi Tohei Sensei (1920-2011)
The Aikido world suffered a great loss last week with the passing of Koichi Tohei Sensei. Tohei Sensei was the founder of Shinshin Toitsu Aikido (Ki-Aikido). He passed away peacefully at 9:14 last Thursday 19th May 2011. He was 91 years old. His funeral will be held within his family members soon and a farewell reception for the general public will be held in Tokyo, Japan at a later date.
To read the Aikido Journal official online blog go to:
http://blog.aikidojournal.com/blog/2011/05/19/koichi-tohei-sensei-passes-at-age-91/
Koichi Tohei (藤平光一, Tōhei Kōichi) was born on 20 January 1920. He was a 10th Dan Aikidoka and founder of the Ki Society and its style of aikido, officially Shinshin Toitsu Aikido (literally 'aikido with mind and body unified'), but commonly known as Ki-Aikido.
Tohei Sensei wrote many books on Aikido and the importance of Ki. The list below is a small sample, which we have in our library:
Ki in Daily Life – 4889960716 Oxford University Press, USA
The Book of Ki – 0870403796 Japan Publications, Japan
Aikido in Daily Life – 0870402218 Japan Publications, Japan
Kiatsu – 0870405365 Japan Publications, Japan
There is so much that can be said about the life and teachings of Tohei Sensei; an original student of O Sensei, a soldier and teacher. He was one of the true Masters of Aikido and has had an immense influence on the art. He will be sorely missed.
The video below is one of many available to view on You Tube. This is a small demonstration of his application of Ki to the art of Aikido.
2. Grading next Saturday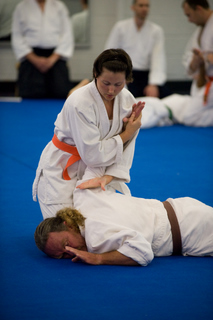 Our May quarterly grading will be held next Saturday (28th) at 10.30 am. It is an important event for those grading, but it is equally important for those of you not grading to come along and support your friends and colleagues. A grading is also the only real opportunity you have to see the grading demonstrations that you will be required to perform in the future.
We always need Ukes at a grading. At Griffith Aikido, we always have many demonstrations on grading day, which requires many Ukes. There is nothing quite the same as taking Ukemi at a grading. It is a great way to improve your rolling skills and your fitness.
You will be able to replenish your energy afterwards with complementary food and drink. Quite a few people have offered to bring a plate, which means a lot of really delicious treats.
For those grading on Saturday, remember to breathe and stay relaxed. Technical proficiency is important but relaxation makes everything go more smoothly and you will conserve energy.
3. Fushimi Inari Taisha
Located about 2km southeast of Kyoto station, Fushimi Inari Taisha is without doubt the largest and most impressive Inari shrine in Japan. It is a shinto jinja (shrine) dedicated to the spirit Inari, located in Fushimi-ku, Kyoto, Japan. Fushimi Inari Taisha is also famous for appearing in the film Memoirs of a Geisha.
It is especially well known for the thousands of vermilion torii lining the paths on the hill on which the shrine is located. The torii gates are all donations from individuals, families or companies. The Inari spirit is considered to be the protector of grains, especially rice, and has thus historically been associated with wealth. Companies often make offerings to Inari shrines in the form of barrels of rice wine (sake) or torii gates.
Fushimi Inari Taisha, like most other Inari shrines, has an open view of the main idol object (a mirror). Fushimi Inari Taisha was founded in the 8th century by the Hata family and is the head shrine of no less than 30,000 Inari Shrines nationwide.
The sanctuary is composed of several buildings, including the Sakura-mon Gate (桜門) and Go-Honden Shrine (御本殿), followed by a 4km tunnel made of thousands of red torii gates making their way through the woods.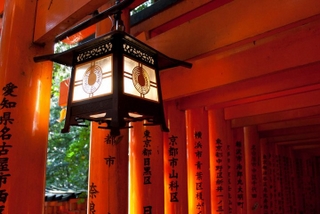 The 4km walk through the torii tunnel to the top of the Inari-san hill can be a strenuous one, especially in the heat of summer. That does not discourage some joggers using it as a training ground, to the astonishment of tourists. Two large ponds and several small waterfalls can be found in the maze of torii, depending on which path you decide to follow.
Statues of menacing kitsune (foxes), said to have the magic power to take possession of human spirits, alternate with torii gates. The fox is however reverred to as the god of harvest (rice and cereals), and is often seen carrying a key in his mouth, which is for the rice granary. Foxes are said to love rice balls rolled in fried tofu, which for that reason are called "o-inari-san". They can be purchased in just about any sushi shop.
Visiting Fushimi Inari Taisha in the late afternoon as the sun slowly sets can be a thrilling experience and is definitely recommended for those who believe in the "spirits of the forest".
4. Thought of the week
"There is no form and no style in Aikido. The movement of Aikido is the movement of Nature, whose secret is profound and infinite. So it is essentially different from some of the other Budo which cling only to forms. When we use the word "form" we mean that the techniques of Aikido are a series of endless spiritual forms. They are unified so closely with each other that they cannot be divided. This is beyond the concept of "form" in the conventional sense. The techniques of Aikido, as we can therefore see, are different from those of Judo, kendo or Karate, but its spirit is in accord with the secrets of these other arts." O Sensei Morehei Ueshiba
https://griffithaikido.com.au/wp-content/uploads/2014/12/griffith-aikido-logo_transparent.png
0
0
admin
https://griffithaikido.com.au/wp-content/uploads/2014/12/griffith-aikido-logo_transparent.png
admin
2011-05-22 02:01:09
2014-12-08 02:37:12
Shukan News 23rd May