Monday 25th July 2011
If you have any contribution for the Shukan News (story, photograph, video), please send it via email to gary@garyweigh.com
1. Murray Loader seminar this coming weekend 30th & 31st July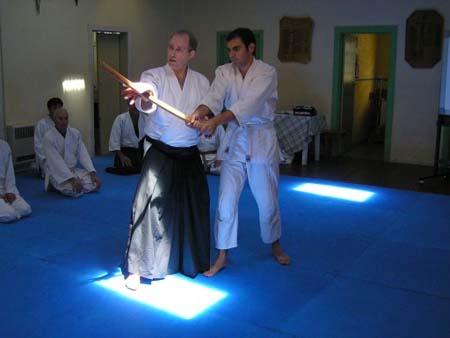 A reminder that Murray Loader Sensei will be holding a weekend seminar at Griffith Aikido Nathan dojo this coming weekend 30th & 31st July.
Murray Sensei has just returned from two weeks in Japan training at various dojos including Maruyama Sensei, Ki Society and Aikikai. We very much look forward to the information and techniques he will share.
The seminar will consist of three (3) classes as follows:
Saturday 10.30 am – 12.30 pm (followed by lunch)
Saturday 1.30 pm – 3.30 pm
Sunday 10.30 am – 1.30 pm
This is an opportunity that shouldn't be missed.
Griffith Aikido members $10 per class.
Visitors $15 per class.
You are welcome to pay at the door. Saturday lunch of soup and sandwiches will be provided by Griffith Aikido courtesy of the Kendall family.
2. The unity of calm and action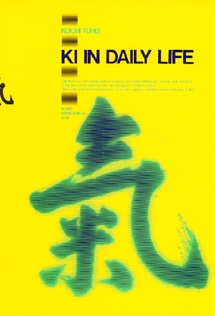 This is an excerpt from Chapter 17 of Ki in Daily Life by Koichi Tohei. This book is available from our library.
"We must be able to instantaneously move with great speed even though, to outward appearances, we remain perfectly calm. We are able to move most rapidly and violently when we are most calm. If even when you confront your opponent's naked sword you remain clear-minded and as calm as the surface of a lake, you can immediately move in accordance with any action your opponent makes. The man who fusses with tricks and frantic devices is not worth mentioning. The man who is so calm that his opponent cannot predict his next move is formidable indeed.
Maintaining a profound calm within even the most violent action is also essential. Like the sea whose lower depths are always peaceful whatever tempest furrows its surface and like the eye of the typhoon around which the violent winds howl, we must always retain our own calm. Strength of action is born from inner calm. For this reason, if we have that calm, regardless of how rapidly we act, we will not upset our breathing. A person who has not mastered this calm will disrupt his breathing, and even a little activity will dull the action of his limbs. Though a man may be ordinarily highly skilled at his techniques, if his breathing is uneven he cannot perform them. If he is facing one man, his opponent will lose control of his breathing too, and everything will be alright. If, however, he is fighting four or five men, if his breathing is rough, he will soon find himself unable to move at all. We must always be conscious of the great importance of preserving our calm in action and of controlling our breathing."
3. Aikido in everyday life – distance matters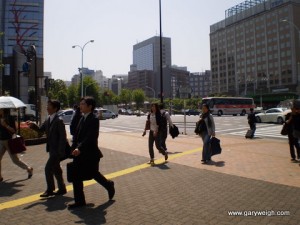 Aikido is all about managing distance. Once you understand distance and its effect on human behaviour then you can blend effectively with your training partners.
Ma-ai is the combative interval between two or more people. It is a critically important martial concept because correct Ma-ai has a big influence on the outcome of any encounter. It takes a lot of practice and experience to judge correct Mai-ai because engagement distance is different for every person; and the matter is complicated by movement, and even further by weapons.
Our Mai-ai in Aikido in everyday life outside the dojo is our interpersonal space. That is, the invisible, self-protective zone of comfort that each of us establishes to navigate our way through everyday life. Funnily enough, like the Mai-ai interval, this is a constantly changing distance as well.
Personal distance, or interpersonal space, is what anthropologists and sociologists might define as the distance consistently separating members of non-contact species.
To read the entire article go to Aikido Secrets
4. Thought for the week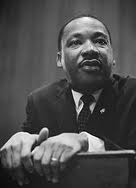 "Love is the only force capable of transforming an enemy into a friend." Martin Luther King
https://griffithaikido.com.au/wp-content/uploads/2014/12/griffith-aikido-logo_transparent.png
0
0
admin
https://griffithaikido.com.au/wp-content/uploads/2014/12/griffith-aikido-logo_transparent.png
admin
2011-07-24 08:53:33
2014-12-11 09:52:54
Shukan News 25th July