Monday 18th July 2011
If you have any contribution for the Shukan News (story, photograph, video), please send it via email to gary@garyweigh.com
1. William Reed seminar in August
Anthony Rasmussen from Redlands Aikido has finanlised arrangements for the upcoming William Reed Brisbane seminar to be held in August. The seminar will be held from Friday to Sunday 26th – 28th August 2011 at the Cleveland District High School, Russell Street, Cleveland.
Online prices (cheaper than door prices) are as follows:
Entire seminar (Fri-Sun) $125
Weekend only (Sat & Sun) $110
Friday evening Nanba $15
Saturday only $60
Sunday only $60
FOR MORE INFORMATION READ THIS FLYER! William Reed Brisbane Seminar (contains door prices)
2. What is Ki?
"The name of my dojo, "Yoshinkan," is the same one my father, who loved budo, used when he built a dojo on his property. I have continued using that name ever since in his memory." Gozo Shioda
According to Gozo Shioda Sensei, in his book Aikido Shugyo, Ki is the concentration of balance. Shioda Sensei (1915-1994) commenced as a first generation student of Morihei Ueshiba in 1932. He later founded Yoshinkan Aikido in 1955.
He writes: "In Aikido, we use the term "ki" quite a bit. These days, people use ki to explain everything, turning it into something mystical. But what is called ki in Aikido is a little different from something which allows you to throw people without touching them.
As for me, I think of ki as the concentration of balance. It is correct posture and breathing, as well as the explosive power that comes from focused power. It is also the power of the centerline. You could even include timing into what you think of as ki.
In fact, in Aikido, ki encompasses everything that transpires between yourself and your opponent. This is what is meant by "uniting your ki". It is, after all, not simply a matter of mere feelings. It is the uniting, the bringing into agreement, of every single factor between you and your opponent. You might even say that kokyu power is the power that is produced through this uniting of ki."
Aikido Shugyo; Harmony in Confrontation is currently in our library.
3. The basic principles of Daito-ryu Aikijujutsu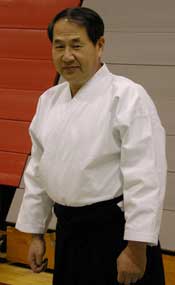 The following article is reproduced in part from The Aikido Journal Online, The Aikido Journal Online's Official Blog.
Katsuyuki Kondo Sensei explains the basic principles of Daito-ryu, to wit: Rei, Metsuke, Maai, Kokyu, Kuzushi, Zanshin, and Kiai. This clip is excerpted from the Aikido Journal DVD set titled "Daito-ryu Aikijujutsu – Hiden Mokuroku."
Daito-ryu Aikijujutsu, the major technical influence on modern aikido, was a martial art taught in the first part of twentieth century Japan by the famous Sokaku Takeda of the Aizu clan, a certified martial arts' genius. Aikido Founder Morihei Ueshiba met Sokaku in 1915, and immediately became engrossed in training. Daito-ryu, in Morihei's words, "opened his eyes to budo."
CLICK HERE to read the full blog
4. Thought for the week
"Your heart is full of fertile seeds, waiting to sprout." Morihei Ueshiba
https://griffithaikido.com.au/wp-content/uploads/2014/12/griffith-aikido-logo_transparent.png
0
0
admin
https://griffithaikido.com.au/wp-content/uploads/2014/12/griffith-aikido-logo_transparent.png
admin
2011-07-18 09:01:03
2015-01-13 05:14:39
Shukan News 18th July