Monday 28th February 2011
If you have any contribution for the Shukan News (story, photograph, video), please send it via email to gary@garyweigh.com
1. Notice of Annual General Meeting
The annual general Meeting (AGM) of Griffith Aikido Institute Inc. will be held on Thursday evening 17th March 2011. As is our custom, the class on that evening will finish at 8pm and the meeting will be held immediately after.
The main business to be conducted at the AGM will be:
General business
Presentation of 2010 audited financial statements
Appointment of Auditor for 2011
Election of committee members for 2011
If you wish to nominate for the committee, please see Jutta for a nomination form. To be eligible for nomination, you must be a paid up voting member of the club and you must have been so for at least the last 12 months. You can nominate for President, Vice President, Treasurer, Secretary, or for one of the general committee positions. Voting for these positions will be by current paid up members only.
2. Grading next Saturday (5th March)
Our quarterly grading will be held at Nathan dojo this coming Saturday 5th March. Even if you are not grading, please come along to support your fellow students. As usual, there will some morning tea and socialising afterwards.
Ahead of our main grading, two of our Nathan students were graded last Thursday evening in class.
Rodney completed the February beginner's course and graded to 7th kyu. He did a great job in demonstrating his techniques. It is never easy doing a first grading alone on the main mat in front of the whole class. Well done Rodney, you are on your way!
Andrew was graded to 4th kyu as well because he left for Port Hedland WA yesterday to live and work for a few months, and won't be here for our regular grading next weekend. Andrew has put in an enormous amount of practice over the past few months and it showed in his grading. He performed all of his techniques very smoothly and with great confidence and control. Congratulations Andrew! We look forward to seeing you when you return.
3. Michael Williams Sensei weekend seminar 26 & 27 March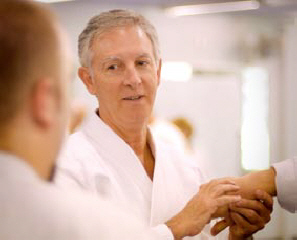 Michael Williams Sensei, International Chief Instructor and Australian Chief Instructor, Aikido Yuishinkai Australia will be conducting a weekend seminar on 26th & 27th March, 2011. This seminar is proudly hosted by Byron Bay Aikido Club and will be held at Goshinkan Dojo, 46 Melaleuca Drive, Byron Bay.
Saturday March 26th 10.00am – 4.30pm General classes
Sunday March 27th 10.00am – 12.30pm Special weapons class
Cost: Full seminar $55 / $45; 1 day: $40 / $35; Per session: $20 / $18
Beginners, intermediate and advanced students are welcome to attend this seminar. Come meet and train with Michael Williams Sensei, the founder of Goshinkan Dojo.
4. Congratulations Eri & Michael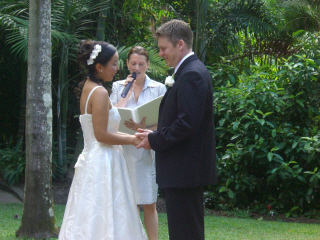 Congratulations to Eri & Michael who were married on Saturday morning. They exchanged vows in a lawn ceremony at Mt Coot-tha Botanical Gardens.
It was a perfect day and the ceremony took place on a private lawn area tucked away in a beautiful shady spot opposite the Japanese gardens.
The ceremony was followed by high tea in the gardens restaurant. Actually it was an 'endless' high tea. Eri's Mum and Dad traveled from Tokyo to attend the wedding. We wish Eri and Michael a long and happy life together!
5. A piece of history
This is an excerpt from a Special Feature Exhibition held at Kyoto National Museum in 2008
"The Swords and Armor of Atsu Hime's Contemporaries"
Background
Born to a branch family of the Shimazu clan in Kagoshima and adopted as the daughter of the feudal lord Shimazu Nariakira, Atsu Hime ("Princess Atsu," 1836-1883) became the wife of the thirteenth Tokugawa shogun Iesada (1824-1858). After her husband's death, she supported Shogun Tokugawa Yoshinobu (1837-1913) and saw the surrender of Edo Castle from within the inner ladies chambers (J., Ooku). In life, Atsu Hime lived through the political upheavals at the end of the Tokugawa (Edo) period.
The NHK year-long historical drama series Atsu Hime was very popular in Japan. In this televised series, the character Atsu Hime has captured the hearts of her viewers. In conjunction to the Atsu Hime series, this special feature presents five renowned swords and armors housed at the Kyoto National Museum that originally belonged to historic figures who played important roles in Atsu Hime's life.
Armor with Purple Lacing (Kyoto National Museum)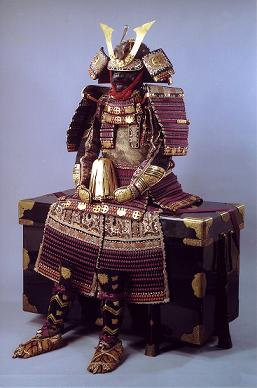 This large armor belonged to Atsu Hime's adopted father Shimazu Nariakira. It is well preserved due to its ceremonial use.The vivid color of its lacing is impressive.The Shimizu family crest, a cross in a roundel, which decorates this armor in several places, appears golden and incandescent reputedly because Nariakira ordered a vassal to test electroplating on it.
Tachi (Slung Sword), inscribed Yoshiie (Kyoto National Museum)
(Important Cultural Property)

This sword belonged to the 25th head of the Shimazu clan, Shigehide. It was presented to the adopted daughter of Shogun Tokugawa Yoshimune, Princess Take (later Jogan-in), on the occasion of her marriage to Shimazu Tsugutoyo. She later gave it to her grandson Shigehide. This exemplary sword is a masterpiece from the Kamakura period (1185-1333) by the sword smith of the Kyoto Sanj? school, Yoshiie.
To see other past exhibitions at Kyoto National Museum visit:
http://www.kyohaku.go.jp/eng/tenji/koremade/index.html
6. Cheese and crackers for the soul
"Failure is the foundation of success, and the means by which it is achieved. Success is the lurking-place of failure; but who can tell when the turning-point will come?" Lao Tzu
https://griffithaikido.com.au/wp-content/uploads/2014/12/griffith-aikido-logo_transparent.png
0
0
admin
https://griffithaikido.com.au/wp-content/uploads/2014/12/griffith-aikido-logo_transparent.png
admin
2011-02-28 04:22:42
2014-12-08 02:37:54
Shukan News 28th Feb