Shukan News 28th November
Griffith Aikido Brisbane – learn Aikido – beginners welcome
If you have any contribution for the Shukan News (story, photograph, video), please send it via email to gary@garyweigh.com
1. Nathan kyu gradings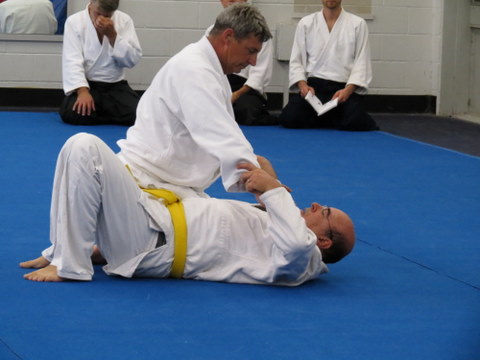 Congratulations to Peter (6th kyu), Anthony (5th kyu), Ting Ting (4th kyu), Tien Tien (4th kyu), and Jerimy (3rd kyu) who graded during the week. All did extremely well. There is no doubt that regular practice shows in grading demonstrations.
Peter's demonstration showed that Aikido can be applied slowly. Most of the older blokes grasp this point very quickly. There is no need to rush. Peter placed great importance on maintaining good balance and an upright centre line. His techniques were performed correctly with good footwork.
Anthony did a very good job with his techniques; applying moon shadow lizard legs in each technique which shows his commitment to the arts. He has showed a vast improvement in his attitude towards Aikido in the past few months and we hope he will continue to enjoy and further develop his interest in Aikido.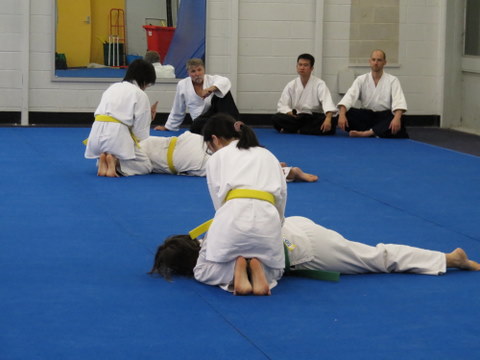 Ting Ting and Tien Tien were both soft and smooth with their techniques. They also demonstrated an upper body lightness which comes from moving the hips and cutting down the centerline. They both did a great job of showing technical correctness in their kata.
Jerimy's demonstration was high energy and very deliberate. He put everything he had into his grading. His techniques were technically very good and obviously the result of regular practice. Like many males at this stage, a big dose of upper body relaxation is required going forward into the more senior grades.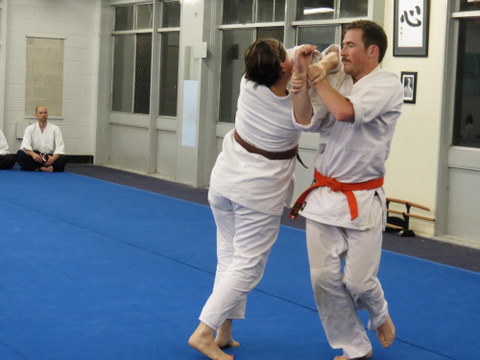 High energy often translates to adrenalin-charged upper body tension and a tendency to push with the arms to force the technique to work. Under motion, the movement of the arms can outstrip that of the hips. This adversely affects balance and can leave a little too much space between Uke and Nage. The result is overextending, lack of circular control, a compromised centerline and a bumpy ride for everyone involved.
Congratulations to all those who graded. All were of particularly high quality. Thank you also to the many Ukes who toiled in the heat to make the grading possible. This was our last grading for the year. We will have a short break over the holidays which gives instructors, helpers and administrators some time to recharge. We look forward to seeing you all on the mat in early January.
2. President's award 2011
Congratulations to Lachlan who won the Club's 2011 President's Award. The prize this year was a book by Tohei Sensei, 'Aikido with Ki'. Lachlan was judged to be the student who attended most classes during the year and demonstrated an attitude of respect, persistence and hard work. Well done Lachlan!
3. Club Reminders
Nathan adult students pay online as normal in December and January 2012 training is included – 6 weeks for the price of 4.
Last training day at Nathan dojo for 2011 is Saturday 10th December. Training resumes Tuesday 3rd January 2012
The last Everton Hills aikikids class for the year will be on Saturday 10th December (followed by the dojo end of year function), and classes will resume on Monday 30th January 2012
The last adult class at Everton Hills will be on Wednesday 21st December and classes will resume on Wednesday 4th January 2012. Nathan students who need a fix over the holidays are welcome at Everton Hills dojo. Please check out class times at https://www.griffithaikido.com.au/class-times/
The next Beginners Course starts at Nathan dojo on Tuesday night 3rd January 2012
4. Thought for the week
Power of the mind is infinite while brawn is limited. Koichi Tohei
https://griffithaikido.com.au/wp-content/uploads/2014/12/griffith-aikido-logo_transparent.png
0
0
admin
https://griffithaikido.com.au/wp-content/uploads/2014/12/griffith-aikido-logo_transparent.png
admin
2011-11-28 04:25:51
2015-01-13 05:17:45
Shukan News 28th November