Griffith Aikido Brisbane – learn Aikido – beginners welcome
If you have any contribution for the Shukan News (story, photograph, video), please send it via email to gary@garyweigh.com
1. Everton Hills roundup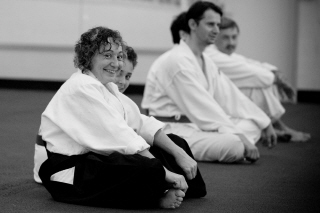 This is the first of what hopefully will be a regular contribution from members at the Everton Hills dojo. For those of you who have not had the opportunity to visit us we train at the Hills District PCYC each Monday and Wednesday evening and Saturday morning with kids' classes held on Monday and Saturday. If you are interested in coming along you are most welcome.
We are a fairly diverse and friendly bunch with a good mixture of gender, age and experience level. In addition to the privilege of having Rod Sensei as our head dojo instructor, Darren Richardson and Craig Mann lead us in some very interesting classes on Wednesday nights. A mixture of back to basics and thinking outside – but staying inside – the square.
Rod, Michelle and Darren are the primary teachers for our kids but a lot us chip in to help particularly on Saturday mornings. Sensei Steve Mitchell has also delighted the kids (including some of us larger ones) with his occasional visits to teach.
Most of our senior group gets down to Nathan occasionally particularly for special events such as Sensei Steve Dows' senior classes or Ki classes or to attend when we have visiting teachers such as the recent (and excellent) seminar by Sensei Murray Loader.
Griffith Aikido is one club that has a dojo at Nathan and another at Everton Hills. From a personal viewpoint I know that when I come to a class at Nathan I feel like a member of Griffith Aikido and not just a visitor. That is no doubt due to the fact that the teachers and students at Nathan, as all good aikidoka do (say that 3 times quickly), make me feel welcome and part of the club. At Everton Hills we look forward to the opportunity to do the same.
Congratulations to Lachlan on his recent President's award. Well deserved. Lachlan has trained with us at Everton Hills and we have enjoyed his company. Also, his mum makes the most fantastic pumpkin soup.
Just a reminder to our Nathan friends that we are open until 21st December so please feel free to come to Everton Hills dojo and train with us.
Merry Christmas and a Happy New year from all of us at Everton Hills.
-David
2. Nathan Aikikids end of year Christmas party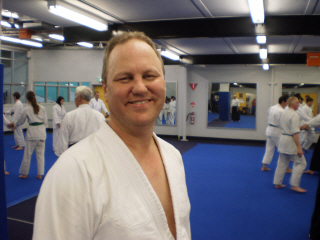 Please be aware that this notice is for the Nathan Dojo Aikikids (it doesn't apply to Everton Hills Dojo).
Next weekend, on Saturday, 10th December, is our Games Day / kids end of year Christmas Party.
Firstly, we will be having an open games session. It will start at 8am and finish at 10.30am. There will be one class fee only for the whole 2 hours.
Kids can certainly come for the two and a half hours, but you also don't have to be there at 8am and you can go and come back at 10.30am if you want. That is, parents and kids can arrive when they want at the dojo, and leave when they want according to their needs.
I expect to have one game on each of the two main mats and probably also separate age groups, if required for safety reasons. As a safety measure in this situation, kids will only step onto and leave the mat with the permission of a 'hall monitor' helper.
Children will step onto and leave the mat (via the helper) according to whether they want to participate in a game being played at that time. Games will change every 10 minutes or so, and I will then stop everything, announce the next games, organise the kids for them if necessary, explain any safety requirements etc, then start.
Then, at 10.30am we will have some munchies outside the dojo area but within the gated area. Please bring a plate of goodies (and healthy things are goodies too) to share. The club will also put on some drinks and munchies.
Parents and kids are, of course, encouraged to attend the Xmas party even if they aren't able to come for the games morning.
See you there.
-Steve
Nathan Aikikids Instructor
3. Book reviews
The following are book reviews from Amazon.com sent in by our librarian. Both books are now in our library and would make great reading over the holidays.
Ki – A Practical Guide for Westerners by William Reed
5.0 out of 5 stars "The truth…! March 9, 2001 by A Customer
This review is from: Ki: A Practical Guide for Westerners (Paperback)
Like William Reed, I spent over 10 years in the Orient learning martials arts from men who had dedicated their life to the practice. This book ranks among the best written concerning ki. The ideas put forth are universal, and can be assimilated by a broad minded and discerning person. Enjoy this book, I certainly did and continue to do so every time I pick up my copy.
5.0 out of 5 stars A good beginning, June 23, 2000 by A Customer
This review is from: KI: A Practical Guide for Westerners (Paperback)
William Reed has tried to define and teach the meaning of Ki so that we in the west can learn. The first part of the text helps us understand Ki, develop Ki and practice Ki. There are a series of exercises and a section on Kimeditation. The second part of the text goes into Ki development in the Japanese Arts (Shodo, Aikido, Kiatsu, Go, Noh and the Tea Ceremony). And the third part, Ki in our ever changing world. A must have book.
Ki – A Road That Anyone Can Walk by William Reed
5.0 out of 5 stars "A great book about Ki which is not shrouded in mystery!" February
12, 1998 by A Customer
This review is from: KI –A Road That Anyone Can Walk (Paperback) My Tai Chi teacher suggested I read this book to broaden my understanding of Ki (or Chi). This book is easy to understand and unlike many books on this subject removes the shroud of mystery concerning Ki. Tohei's mastery of Ki shows through in his clear explanations and insights.
4.0 out of 5 stars Biography of Koichi Tohei, June 23, 2000 by A Customer
This review is from: KI –A Road That Anyone Can Walk (Paperback) This book starts with the history of Koichi Tohei Sensei, who developed and bring his knowledge about KI to our world. Though I was looking for a text book on KI what I found was a book that has summaries of practical KI for our daily life. The most impressive thing is the fact that relax and calmness is the key to a great strength. Book allows you to see that anyone can learn and apply Ki.
4. Thought for the week
"A real friend is one who walks in when the rest of the world walks out" Walter Winchell
https://griffithaikido.com.au/wp-content/uploads/2014/12/griffith-aikido-logo_transparent.png
0
0
admin
https://griffithaikido.com.au/wp-content/uploads/2014/12/griffith-aikido-logo_transparent.png
admin
2011-12-05 04:14:09
2014-12-08 02:35:40
Shukan News 5th December