Beginners course starts Tuesday 5th June – all welcome!
If you have any contribution for the Shukan News (story, photograph, video), please send it via email to gary@garyweigh.com
1. Adults Classes Now At Mansfield-Mt Gravatt Dojo from Wednesday 6th June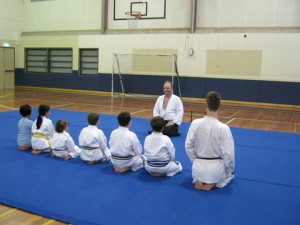 We have now locked down class times for the kids classes, which allows us to lock down a time for the adults class (see below). The mats the club ordered to allow the Mansfield-Mt Gravatt Dojo to begin, have now arrived. Nathan now has brand new 14 metre mats and the current front mats at Nathan have now gone to Mansfield-Mt Gravatt Dojo. The 10 metre mats which have been on loan have been returned to Nathan, so Nathan now has all its mat space back. Many thanks go to Nathan Dojo for going without the back mats for several weeks to allow Mansfield-Mt Gravatt Dojo to start.
Adults classes start at Mansfield-Mt Gravatt Dojo from this Wednesday 6th June. Time will be 6.30pm – 8.30pm. Classes are included in the monthly fees currently paid at Nathan. That is, it will not cost you any extra to train at Mansfield Mt-Gravatt dojo if you pay monthly mat fees.
Come along and check out the club's new dojo. Link as follows for directions:
https://www.griffithaikido.com.au/BAC-dojo-launch-flyer-printable.pdf
2. Moscow Seminar Invitation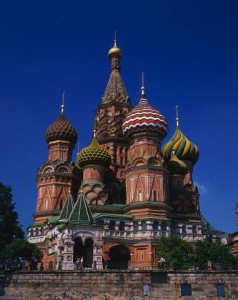 Dear Rod Nixon-Smith-San!
This is our pleasure to invite you to join us for the seminar with Master Koretoshi Maruyama in beautiful Moscow, Russia. This seminar is a great event to welcome the Founder of Aikido Yuishinkai Master Koretoshi Maruyama in Moscow to learn from him to take his teaching and to support the future growth in Aikido.
This is the second time Moscow Ki Aikido Academy has organized the seminar with Master Koretoshi Maruyama in Moscow and this year it will be on September 07-10, 2012 in our dojo which is located 16 km from Moscow in a fabulous and picturesque place. Our dojo has everything for intensive and fierce practices of Aikido, Misogi, Zazen and other aspects of Japanese culture.
We would be happy to see you and your students here in our dojo at Moscow seminar. In addition to the wonderful training we also have included into the seminar program Moscow sightseeing so that you could touch the history and beauty of this amazing city.
You can find the complete information about the seminar (accommodation, meals, fees, picking up from the airport) in the attachment to this letter.
Please join us at this international event which brings together Aikido Yuishinkai instructors and students to train and share skills to build friendship and to be filled with Aikido spirit.
If you have any questions, please, feel free to ask.
Best regards,
Mikhail Orlov
Chief Instructor of Aikido Yuishinkai in Russia
CLICK HERE FOR Moscow Seminar 2012 Information
3. Our new 1st kyu students
The fab five (or usual suspects) L-R: Rick, Matt, Bartek, Kylie and Danny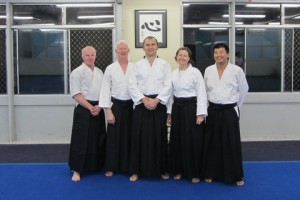 4. Thought for the week
"We must be the change we wish to see." Mahatma Ghandi
https://griffithaikido.com.au/wp-content/uploads/2014/12/griffith-aikido-logo_transparent.png
0
0
admin
https://griffithaikido.com.au/wp-content/uploads/2014/12/griffith-aikido-logo_transparent.png
admin
2012-06-03 04:42:40
2015-01-13 05:18:07
Shukan News 4th June