We now have 3 dojos. Great Brisbane kids activities!
If you have any contribution for the Shukan News (story, photograph, video), please send it via email to gary@garyweigh.com
1. First lessons at Mansfield-Mt Gravatt dojo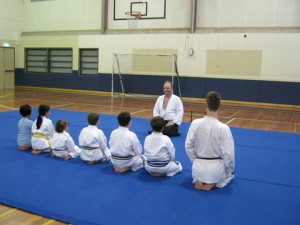 Last Wednesday heralded the opening of our third Griffith Aikido dojo, located in the student sports centre at Brisbane Adventist College.
Class numbers were small, not surprising during school holidays, but knowing numbers would be smaller allowed us to ensure safety in what is a brand new environment. It also allowed us to decide exactly where to place mats and admin desks and kamiza and so on, and refine all the little things that simply don't get thought about in an established dojo. The gym space is very large and we have many options.
I should mention the dojo is relatively easy to find (download directions below), and there is plenty of free parking. The Aikikids classes now being held at our new dojo is the result of many parents over the past couple of years asking for mid-week training options for their kids. So please support the new dojo and come along to have a look or join in.
Many thanks to the parents and kids who did turn up to take part in the first classes. A special thank you to Natalie who has driven the relationship with Brisbane Adventist College, and has been responsible for securing the dojo space for our club. She has been promoting the idea in the school of a non-aggressive martial art like aikido being perfect for kids at the school.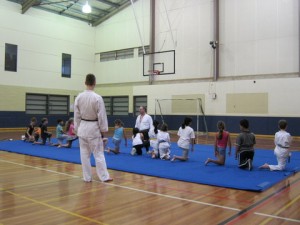 This in turn has led to the school's after-school care unit having a strong interest in aikido becoming one of their regular after school care activities. The immediate result of this interest was that the after school care kids from the school came down with their teacher to watch the first class and were carefully included in some gentle aikido awareness and aikido movement games.
They seemed to really enjoy watching the aikido and being part of the games. Our regular Aikikids from Nathan similarly enjoyed the first class in our brand new dojo. They enjoyed the games of course, but we also did some katatekosadori techniques.
With the after-school care kids returning to their unit, and with some extra Aikikids seniors arriving to take part in the second class, we were able to undertake some advanced shihonage techniques.
It felt just like the Aikikids classes we have at Nathan on Saturday morning. Plenty of fun but serious aikido learning as well. With mats borrowed from Nathan we felt very much at home and we look forward to many successful years ahead.
Many, many thanks to Nathan dojo who have lost about a third of their usual mat area for a few weeks until new mats arrive. It's really appreciated.
See you at our new Mansfield-Mt Gravatt dojo on Wednesday!!
-Steve
For more information and directions to the dojo download/print our flyer at:
https://www.griffithaikido.com.au/BAC-dojo-launch-flyer-printable.pdf
2. The magic of Aikikids
I sit and watch our Aikikids classes on Saturday mornings at Nathan dojo and I wonder about the attraction of aikido. Our kids are running around and making noise. They are having so much fun. It is a far cry from the adult classes. Correction … our adult classes are fun too, just different.
For the younger children, Aikido looks like structured playtime. For the older children it is practice of basic aikido techniques interspersed with games, accompanied by a huge unleash of youthful energy.
Even the Japanese techniques change names. My favourite is the entering movement and circular motion of Irimi nage which becomes 'roundy–roundy-up-and-downy'! It upsets balance so I guess its name doesn't really matter.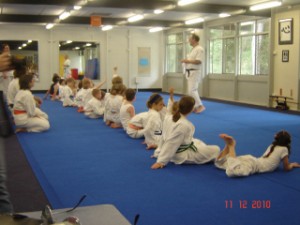 The concept of fighting is never brought up. Aikido is not taught to children as a fighting art, or even as an effective self-defence system. There is more emphasis on awareness, self control and empathy for others. Did I mention the fun?
Aikikids learn to interact with each other. They are used to being bustled and grabbed in play-like exercises, so they learn to deal with pushing and grabbing in a play-like manner. In most cases, it doesn't even look like self defence.
As I think more about this observation, I realise that the only other time that I have noticed Aikido not looking like self defence is when I watch masters at the highest levels of Aikido. Mmmm… what does that suggest?
In the many years I have been associated with the Griffith Aikido club, none of the Aikikids or teen students has ever reported being in a fight at school. What they do talk occasionally about is helping others from the grip of bullies, and walking away.
The best weapon that our Aikikids have is self confidence, self control and empathy for others, including the aggressors. Aikikids are reintroduced to social skills. That is interacting with other children face to face, not via a computer or iphone. They actually learn how to mix and get along with each other, even when other kids are different.
To me, that is embodiment of the aikido spirit and the essence of the non-fighting mind.
-Gary
3. Thought for the week
"Better to light a candle than curse the darkness." Eleanor Roosevelt
https://griffithaikido.com.au/wp-content/uploads/2014/12/griffith-aikido-logo_transparent.png
0
0
admin
https://griffithaikido.com.au/wp-content/uploads/2014/12/griffith-aikido-logo_transparent.png
admin
2012-04-09 08:56:05
2015-01-13 05:18:04
Shukan News 9th April