Come try Aikido. We have 3 Brisbane dojos. No experience necessary.
If you have any contribution for the Shukan News (story, photograph, video), please send it via email to gary@garyweigh.com
1. Brisbane martial arts festival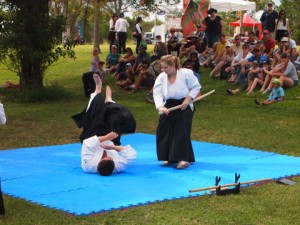 Outdoor Aikido with an audience! Brisbane Aikido Yuishinkai attended the first Brisbane Martial arts Festival on the weekend (Sunday 1st April). Aikido Yuishinkai had a relatively small but dedicated & strong turnout, from several dojos across the Brisbane area. Griffith and Everton Hills were well represented.
We had the opportunity to do two demonstrations that were aimed at showing the method of teaching from static beginner levels through to the dynamic display of a full randori. We demonstrated the change of Mai with weapons and the discipline, focus and Ki extension of our different weapons kata.
This was a great opportunity for all involved to put on a show using our Aikido techniques. Everyone there seemed to have a good time watching other martial arts with some even participating in some of the workshops provided by the other arts on display.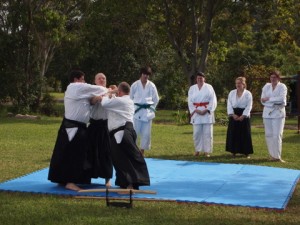 So it was a great day to really embrace the concept of "Aikido without boundaries" . We all got to meet and make a lot of new martial arts friends. Although on different paths we were all interested in understanding more about movement and systems of self defence in a cooperative environment.
Stand outs were the Wing Chun Kung fu, and the Krav Maga, who were really interested in our movements and our control of Uke. And I must say the Komei Juku Iaijutsu / Naginatajutsu guys we shared the tent with did an awesome display of ancient classical Japanese Samurai Weapon's arts! It seems there were a couple of Aikidoka that snuck into these guys tent and train with them.
As the organiser, I'd like to thank firstly Sensei Michael Williams, and Sensei Rod Nixon for their blessing and support. Also all the attendees from our dojo who turned up and performed – Chris and Narelle from Nathan; and Zac, Gary, Bill and Susan from the Everton Dojo. Thanks guys, the day couldn't have happened or been as successful as it was without your support.
Craig Boyd – "Big Rock"
Check out the Brisbane Martial Arts Festival website http://www.martialartsfestival.org/
2. Murray Loader Sensei, Brisbane seminar 19th & 20th May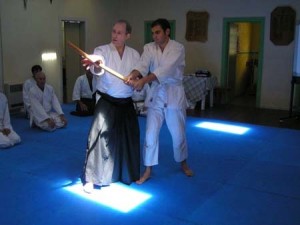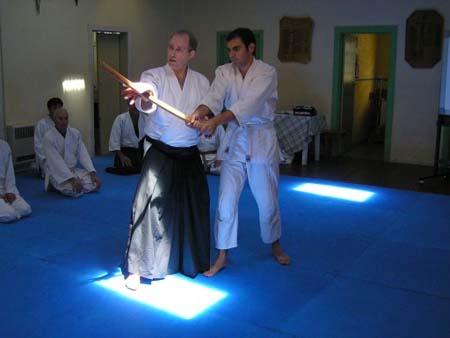 Once again we are fortunate to have Murray Loader Sensei in Brisbane next month. Sensei will be holding a weekend seminar at Griffith Aikido Nathan dojo on 19th & 20th May. This seminar proved to be very popular last, and this year will be no different.
The seminar will consist of three (3) classes:
Two 2-hour Saturday classes
One 3-hour Sunday morning class
The seminar will commence after the Aikikids class, around 10.30am. Session times and seminar content will be published soon! Visitors, near and far, are welcome!! Places are limited to 40 people so act now to avoid missing out. Saturday lunch will be provided by Griffith Aikido for all attendees.
Griffith Aikido members, please secure your place by paying in advance at class. Visitors please secure your place in advance by emailing us at info@griffithaikido.com.au and pay at the door on the day.
Prices (all prices include lunch)
Members
Saturday (2 sessions) $30
Sat & Sun (all 3 sessions) $40
Adult per session $15
Child per session $5
Visitors
Sat & Sun (all 3 sessions) $50
Adult single session $20
3. Thought for the week
"If you think you can, or you think you can't, you're probably right." Henry Ford
https://griffithaikido.com.au/wp-content/uploads/2014/12/griffith-aikido-logo_transparent.png
0
0
admin
https://griffithaikido.com.au/wp-content/uploads/2014/12/griffith-aikido-logo_transparent.png
admin
2012-04-16 08:33:58
2014-12-08 02:34:13
Shukan News 16th April