Come learn Aikido – beginners welcome
If you have any contribution for the Shukan News (story, photograph, video), please send it via email to gary@garyweigh.com
1. Nathan Aikikids Round Up – End of 2011 / Start of 2012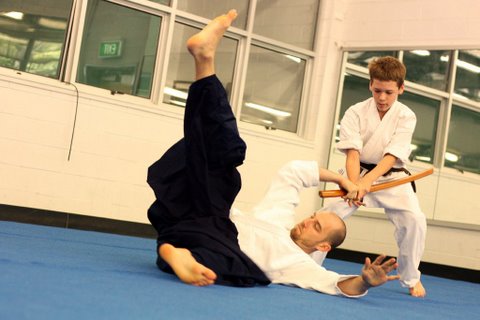 Hi Mums, Dads and Carers,
First of all can I say Happy New Year. 2012 is going to be fantastic!! We're up and running again as of last Saturday.
The club has introduced a new Child Protection policy. One of the new requirements is that a parent/guardian/carer of a child must stay and be present for the class.
As of 7th January, class times will stay the same but we will be altering our class age arrangements for the second class as follows:
8.00am to 8.50am – Aikinippers (5 to 8 year olds)
8.50am to 9.40am – Aikinippers (5 to 8 year olds) + Aikikids (8 to 12 year olds)
9.40am to 10.30am – Aikikids (8 to 12 year olds)
I didn't get a chance at the end of last year to say thank you in the Shukan News to everyone who helped to make 2011 as wonderful as it was. Our kid's classes are blessed with lots of enthusiastic helpers. Helpers helped regularly and fitted into anything I did. Thank you.
A thank you to Natalie as well for her efforts running the admin desk. It was a real team effort. A final thank you to parents who appreciate what we do and kept bringing their kids.
Congratulations to Dayne Jesse, who graded to Black Tip (Junior Black Belt) at the end of November. His grading was very well done, and his performance of techniques, weapons kata and 2 person adult attack was excellent.
Congratulations to all the other kids who graded too. I've been very impressed.
Steve, Nathan Aikikids instructor
2. Hydrate well during summer training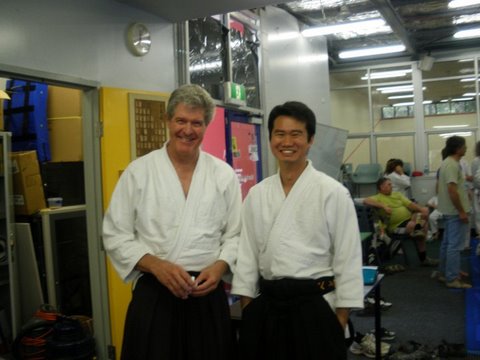 Here we are into summer Aikido training again. A 2-hour class is hot work, particularly on a mid-summer Saturday. It is most important to stay well hydrated.
Good hydration starts well before physical activity. Prepare by drinking before class and at regular intervals during training. Experiencing the feeling of thirst means that is too late. Thirst is your body's way of telling you it is dehydrated. .
Dehydration can cause some serious effects on the body. The article below is a good summary of what to do to stay hydrated:
"Do not use 'thirst' as a way of knowing whether you need to drink liquids. Thirst is not always a good sign that your body needs more liquids." The following are suggestions for how much liquid you may need to drink to prevent dehydration:
Before exercise: Drink about 350-600 ml of liquid, two to three hours before exercise.
During exercise: Drink 175 to 350 ml of liquid every 15 to 20 minutes.
After exercise: Drink 470-700 ml of liquid for every pound lost during exercise. Eighty percent of water lost during exercise must be replaced before another exercise event done in the same day.
It is a good idea to weigh yourself before and after exercise, especially during hot weather. This will tell you how much water you have lost in sweat during exercise. You will need to replace this water after exercise.
Read the article Importance of Hydration for an Athlete
Read more at www.lifemojo.com
3. Capalaba Dojo Aikido Seminar
Aikido Yuishinkai's Capalaba dojo is hosting a seminar next month presented by Peter Kelly and Alistair Williams. It will be 9 am to 5 pm on 11th & 12th February 2012. Numbers are limited to 20 participants. For more details click on Capalaba Aikido Seminar.
4. Thought for the week
"Write your hurts in sand and carve your blessings in stone." Author unknown
https://griffithaikido.com.au/wp-content/uploads/2014/12/griffith-aikido-logo_transparent.png
0
0
admin
https://griffithaikido.com.au/wp-content/uploads/2014/12/griffith-aikido-logo_transparent.png
admin
2012-01-08 03:31:36
2015-01-13 05:17:53
Shukan News 9th January