Griffith Aikido Brisbane – learn Aikido – beginners welcome
If you have any contribution for the Shukan News (story, photograph, video), please send it via email to gary@garyweigh.com
1. Self-Defence for Nathan Aikikids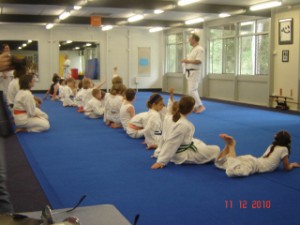 Hi Mums, Dads and Carers
Next Saturday I will start a series of 3 classes on self-defence. I have done this over the past couple of years at the start of the year, and the classes have been appreciated as parents prepare their kids for school.
My aim is to provide the kids with some tools to deal with potentially difficult situations with other kids, and to be discerning when applying physical aikido. I intend to show them some simple aikido techniques as well as some other simple self-defence techniques, use of the voice (verbal aikido), not contributing to escalation/diffusing, and then have them put it all together.
Steve, Nathan Aikikids Instructor
2. Aikido is the ideal martial art for females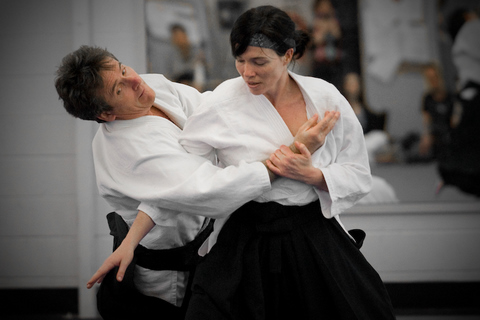 If you are female and searching for martial arts Brisbane, then you are in the right place. There are not many martial arts where females can be just as capable as males. But Aikido is one of them!
Aikido is for everyone; female, male, young and old. It is known worldwide as the art of peace. Size and physical strength count for nothing in this subtle Japanese defensive art. It is all about balance, movement and timing – all borne out of relaxation and a highly developed non-fighting mind set.
Aikido techniques are largely about taking balance, not pushing or dragging. The same principles apply to the taking of balance regardless of gender. When someone is thrown it really is a case of the bigger they are the harder they fall. Fortunately everyone is taught defensive rolling to land safely.
In the early stages of Aikido training it is easy to distinguish who is the attacker (Uke) and who is the defender (Nage). But with regular practice comes a highly developed sense of awareness and anticipation.
With more advanced skills, it becomes harder to distinguish Uke from Nage because Nage is moving to defend even as the thought to attack is forming in Ukes' mind, and well before it is translated into action.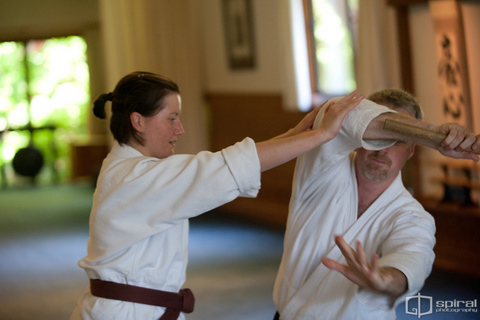 So does it mean this strictly defensive art transforms into an aggressive attacking art over time? Not really! It just means that defence occurs earlier in the eyes of an observer. The defender is no longer waiting to receive the oncoming energy. In most cases, it also means that there is less to do because the initiative has been seized earlier.
We have many females train with us at Griffith Aikido Institute and I am pleased to say that we have quite a number of female senior students at both or North side and South side dojos. We deliberately position ourselves as a female friendly Aikido club.
Our most senior ranked female is Jutta. She is now in her early seventies and is a 4th level black belt. She is a truly delightful person but I wouldn't mess with her. Other very talented senior girls who will look after you include Sylvie, Narelle, Michelle and Kylie.
So if you are a female looking for a truly engaging and interesting martial art in Brisbane and one that provides effective self defence, come meet Jutta and the girls.
3. Positive Mind – how to think yourself fit
Here is an interesting article about the use of positive mind in finding health and fitness.
If you're suddenly going nowhere with your fitness or weight loss programme, it could be your head that needs a workout, not your body. We speak to personal trainers and psychologists for tips and tricks that will help you think yourself into better shape
We spend endless hours working out to improve our performance at the gym, boost stamina and reach our ideal weight. But without razor sharp mental fitness, all of the above will remain frustratingly out of reach.
"Our mind plays an essential role when it comes to getting fit and losing weight," says fitness trainer Gavin Walsh.
Read the entire article at: http://health.ninemsn.com.au/fitness/exercise/8402552/how-to-think-yourself-fit
4. Thought for the week
"Being defeated is often a temporary condition. Giving up is what makes it permanent." Marilyn Vos Savant
https://griffithaikido.com.au/wp-content/uploads/2014/12/griffith-aikido-logo_transparent.png
0
0
admin
https://griffithaikido.com.au/wp-content/uploads/2014/12/griffith-aikido-logo_transparent.png
admin
2012-01-16 03:19:22
2014-12-11 09:10:35
Shukan News 16th January