Griffith Aikido Brisbane – learn Aikido – beginners welcome
If you have any contribution for the Shukan News (story, photograph, video), please send it via email to gary@garyweigh.com
1. Training as usual at Nathan on Australia Day
There will be adult training as usual at Nathan dojo this coming Thursday 26th January (Australia Day). Even though it is a public holiday, the 6.30pm class will be held as normal.
2. Why Aikido should be taught to every child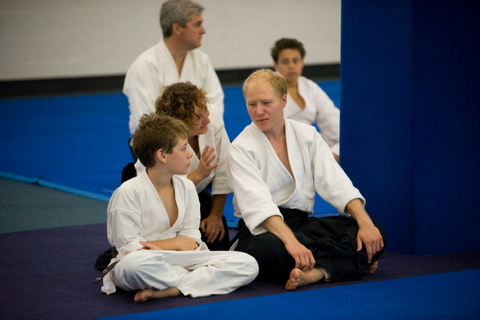 Aikido should be taught to every child in every school simply because 'the art of peace' develops a non-fighting mind. In 20 years time, we would have a generation of non-fighting young adults.
Bullying is a fact of life in school. It has always been there and shows no signs of abating. Governments try to formulate policy and legislation but it is difficult to control human behaviour this way.
School administration and teachers are charged with responsibility of keeping children safe on school grounds. What about bullying outside school grounds? What about cyber-bullying that simply transcends school grounds? What about silent intimidation? There are so many aspects to bullying that adults simply can't control.
All school children benefit from Aikido. We teach the art in a fun way. It is an early lesson in taking responsibility for their own safety, rather than transferring all of the responsibility to adults.
Aikido is about living a peaceful life with self confidence and restoring peace in a non-violent way when someone breaks the rules. As mentioned above, it instills a non-fighting mind – a valuable asset for life.
Here are just some of the ways in which Aikido can help children at school:
Aikido is a non-aggressive martial art. You can't start a fight with Aikido but you can stop one quite easily without injury to the participants.
Aikido teaches conflict resolution skills without the need to fight. The many self defence techniques are very effective but they are designed to restore peace, not escalate violence.
Aikido works for smaller children. Aikido does not rely on size, strength, speed, weight, or reach. Therefore, it is effective for everyone; girls and boys alike.
Aikido does not require athletic ability. In fact, that can sometimes get in the way. The key to making progress in Aikido is simply to persevere and have a positive attitude. What better lesson could we teach children?
Aikido teaches self control. With improved Aikido skills and confidence it is a lot easier to stay calm and maintain self control. It is the bully who suffers a contentious mind and loses self control.
Aikido helps a child's mind development at school. By training in Aikido, children develop calm, clear minds. As a result, they absorb knowledge easier, and think with greater clarity.
Aikido training develops self confidence and brings back self esteem to children who have been bullied. That is a big positive step forward in the transition from childhood to healthy adulthood.
For more information about Aikido for children go to our Aikikids page on this website https://www.griffithaikido.com.au/aikikids/ and download the free booklet 'A Parent's Guide' on the right hand panel of this page. To enroll your child in Griffith Aikikids call Steve (Nathan) on 0413 664 611 or Rod (Everton Hills) on 0406 598 478 simply come to one of our two dojos.
Class times at https://www.griffithaikido.com.au/class-times/
3. Barefoot running
This is an interesting link sent in by Mike. It is a video about barefoot running and the site has a lot of interesting ideas, but this video in particular has a couple of posture and concept drills that relate to the ideal posture for Aikido and daily life. Funnily enough it seems we should go back to barefoot.
http://www.barefootrunningaustralia.com.au/2011/03/learn-to-run-barefoot-with-lee-saxby/
4. Thought for the week
"When the student is ready, the teacher will appear." Buddhist Proverb
https://griffithaikido.com.au/wp-content/uploads/2014/12/griffith-aikido-logo_transparent.png
0
0
admin
https://griffithaikido.com.au/wp-content/uploads/2014/12/griffith-aikido-logo_transparent.png
admin
2012-01-22 03:07:45
2015-01-13 05:18:35
Shukan News 23rd January