Monday 1st August 2011
If you have any contribution for the Shukan News (story, photograph, video), please send it via email to gary@garyweigh.com
1. Maruyama Sensei seminar – bookings open
For those of you who were hanging out for the details of this year's Maruyama Sensei seminar, details have just been released. Once again the seminar will be hosted by the Byron Bay Aikido Club at Goshinkan dojo. The Yurt is also available for overnight stays but you will need to be quick.
The seminar will run from Friday14th – Monday 17th October 2011. There will be 3 days of Aikido (Friday, Saturday & Sunday) and I day of Shindo (Yuki) healing on the Monday. Full details including prices are on the attached flyer. Please note that the Early Bird date is 30th August.
Please read this flyer Maruyama Sensei October Seminar
Elizabeth advises that she will distribute an email advice concerning links to house rentals soon.
2. Thank you to the Market Day stall helpers
Thank you very much to the 5 people who generously gave their time last week to help out on the Griffith Aikido Market Day stall at Griffith Uni Nathan Campus. We really appreciate your time and effort. You will find a little thank you coming your way today.
3. A wonderful seminar on the weekend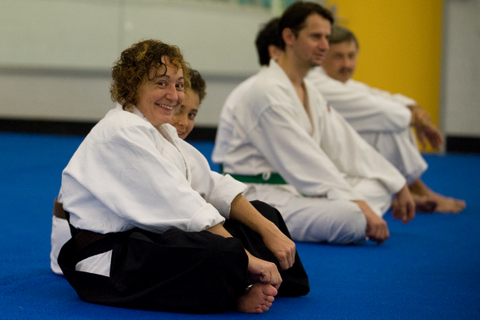 The Murray Loader seminar held last weekend was a roaring success. On Saturday we were at our target comfort capacity of 40 people on the mat. On Sunday we welcomed 30 people. It was lovely to catch up with some visitors we hadn't seen for a while.
On Saturday morning we learnt a lot about Aikido with Ki. Even the most basic of Ki exercises "unbendable arm' took on a new significance. On Saturday afternoon we were treated to a wonderful weapons lesson. Murray Sensei is a student of the sword art and provided many helpful insights into our curriculum weapons kata.
On Sunday morning we saw examples of the old Daito Ryu combat techniques contained within our modern Aikido hand art. It was astonishing to see two sides of the same technique. In most cases, the physical differences were quite small. However, the major difference was intent.
We would like to thank Murray and Louise for making the trip to Brisbane, and we hope to welcome them back again soon. We also extend our warmest thanks to Lenore and Neil (Lachlan's Mum & Dad) for the great lunch of pumpkin soup and sandwiches on Saturday.
4. Our new suggestion box
As a result of the feedback received at our planning day, we now have a suggestion box at Nathan dojo. You can't miss it! Jutta has gone to great lengths to make a lovely colourful box for the occasion. It will sit on the reception table by the dojo door. Contrary to popular opinion, the box does have a bottom in it, and hasn't been designed to fit neatly over the shredder. Inside the box, you will find pencil and paper. We encourage you to give us your feedback and ideas. We don't mind whether you sign your name or not. Either way, your suggestion will be considered by the Committee at the next scheduled meeting. If you do sign your name we will advise you personally of the outcome.
5. Thought for the week
"The weak can never forgive. Forgiveness is the attribute of the strong." Gandhi
https://griffithaikido.com.au/wp-content/uploads/2014/12/griffith-aikido-logo_transparent.png
0
0
admin
https://griffithaikido.com.au/wp-content/uploads/2014/12/griffith-aikido-logo_transparent.png
admin
2011-08-01 08:26:04
2015-01-13 05:14:35
Shukan News 1st August