Griffith Aikido Brisbane – building confidence and enjoyment through martial arts
If you have any contribution for the Shukan News (story, photograph, video), please send it via email to gary@garyweigh.com
1. Lifou, New Caledonia
If you were wondering why words such as "Oui Monsieur", "Bon chance" and "Mon ami" have been heard in the dojo lately, French is the language of New Caledonia. Emile has trained with us for the past couple of years and is one of our many dedicated senior students. His home is Lifou, New Caledonia. Lifou is one of the three Loyalty Islands to the east of the main island of Grande Terre.
Emile and his family are currently in Brisbane until he completes his studies at the end of next year. Although Emile speaks perfectly good English, it is the growing band of very bad French speakers that has recently given the Nathan dojo its questionable international appeal.
New Caledonia is an archipelago located 1,500 kms east of Queensland. Emile lives on Lifou in the main centre of We. Click on the link http://en.newcaledonia-tv.com/spot/lifou-0 to see many videos of New Caledonia, but I chose this one as a means of scoping out our new Pacific dojo.
2. Conflict doesn't equal contest
Conflict should not be a contest. Ever since we learned to walk upright, we have been socially conditioned to believe that we must compete in conflict at the very point where the clash of force is greatest.
It is animal instinct to respond to a slap with another slap; or to hurl back an insult received with equal vehemence. It is ironic how people can assign so little thought or action to winning at anything else in their life, but the moment there's a pointless fight or argument to win – honour, strength, self righteousness and determination suddenly leap to the fore.
Imagine if such intent and focused energy was applied to more constructive and peaceful pursuits! Well, the resolution of conflict can be just that – constructive and peaceful. It doesn't have to be a competition at all.
The art of Aikido is built on the premise of respect for life and the desire for peace. It is considered that to injure an opponent is to injure one's self. One of the basic tenets is to control aggression and find a peaceful solution without inflicting injury.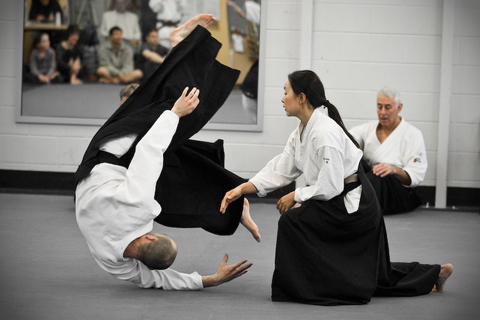 Hence, there are no contests in Aikido. Whilst in the extreme it is a dangerous martial art, the real challenge is the continuous application of its principles in everyday life outside the dojo. The real goal is self mastery, not the destruction of others.
One of the cornerstones of the art is 'the principle of non-dissension". The dictionary meaning of 'dissension' is a quarrel, a discord or a disagreement, whether violent or non-violent.
Aikido training teaches us to avoid the 'fighting mind' trap by not hanging on to contentious or quarrelsome thoughts and to look beyond the immediate conflict towards outcomes that will restore peace and harmony.
Achieving such an outcome does not mean giving in or fighting. It is something far more challenging. That is, to take control at some point during the confrontation so that energy dynamics change from attack to resolution. The tricky part is to do it in a calm and relaxed manner without entering into a contest.
3. Thought for the week
"For us, someone who is willing to step forward and help is much more courageous than someone who is merely fulfilling the role." Margaret J Wheatley
https://griffithaikido.com.au/wp-content/uploads/2014/12/griffith-aikido-logo_transparent.png
0
0
admin
https://griffithaikido.com.au/wp-content/uploads/2014/12/griffith-aikido-logo_transparent.png
admin
2011-11-06 06:19:39
2014-12-08 02:35:40
Shukan News 7th November