Visitors welcome at Griffith Aikido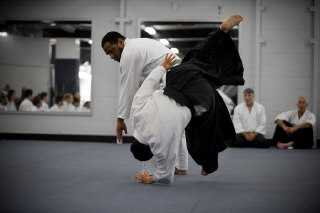 If you are visiting Brisbane, or looking for Aikido in Brisbane, please drop in and see us at Griffith Aikido Institute.
We follow the Yuishinkai style of Master Koretoshi Maruyama Sensei.
We have welcomed many interstate and overseas visitors, and you too are welcome to train with us throughout the duration of your stay. Whether you are in town for a day, a week or a year, we would love to see you.
You can contact us in advance if you wish but you are also most welcome to simply turn up without notice at any class. Simply sign our insurance indemnity form, pay a casual fee and start training.
Ours is a large club, a mature dojo with a full progression of coloured belts and black belts. We have two dojos, conveniently located on the north and south sides of Brisbane.
Our Nathan dojo has 190sqm of mat space while our Everton Hills dojo has at least 120sqm. Both dojos are equipped with dojo weapons for common use.
Come train with us and extend your network of Aikido friends. Class times information at https://www.griffithaikido.com.au/class-times/
https://griffithaikido.com.au/wp-content/uploads/2014/12/griffith-aikido-logo_transparent.png
0
0
admin
https://griffithaikido.com.au/wp-content/uploads/2014/12/griffith-aikido-logo_transparent.png
admin
2011-01-21 05:17:04
2015-01-13 05:17:45
Visitors welcome at Griffith Aikido